Are Chelsea Boots Considered Dressy or Casual?
---
Conceptualized for Queen Victoria's equestrian hobbies by the mythical cobbler J. Sparkes-Hall, the signature pull-up Chelsea ankle boot look went on to be popularized for men's fashion in the 60s by the Beatles, who donned these iconic black leather men's Chelsea boots.
Some people have a perception of the laceless Chelsea boot with pull tabs and elastic sides as a work boot, others as a dress boot for semi-formal occasions, and still others wear Chelsea boots rocking a formal suit and tie ethos. For sure there is a Chelsea boot for every individual, every style, and every lifestyle imaginable.
Chelsea boots can be considered both dressy and smart-casual, depending on the materials they are made from and the way they are styled. Chelsea boots constructed from high-quality leather, with a sleek, minimalist design and tapered or pointed toe work well to deliver a more formal look worn with suits, dress pants, or even skirts. By contrast, suede Chelsea boots have a more informal look and feel for business casual wear, when put together with well-fitted jeans or chinos.
Characterized by its elastic side panels which facilitate easy slipping on and pulling off, a pair of Chelsea boots is typically made from leather or suede, with a variety of heel heights. Chelsea boots with a heel are generally considered more formal than Chelsea boots without a heel.
Here are some tips marrying up what you are wearing with what to put on your feet.
---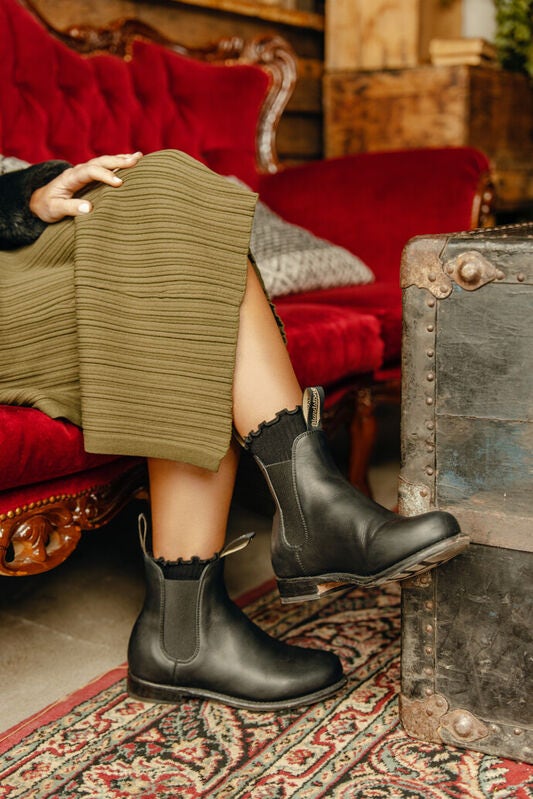 How To Wear Chelsea Boots for a more Formal Look
Formal wear tends to be more dressy clothing designed for formal occasions, like weddings, christenings, dances, functions, and special occasions. Consider pairing your Chelsea boots with a suit - the sleek vamp of the Chelsea boot is an easy solution if you are out to make a fashion statement. For a formal wedding where dress shoes are needed, choose black leather Chelsea boots to add break up the formality. Adding a tie or dress shirt into the outfit mix is for sure a classy move - just remember that the material and color of your footwear should marry up with whatever belt or accessories you are wearing. Black Chelsea boots are always a safe bet when wearing a blue suit or black suit and a matching black belt will look the part. If contrast is more your thing, then consider a brown leather Chelsea boot coupled with a navy suit and matching brown leather belt. If it's a date night or job interview on the cards, then the formality of black or brown leather Chelsea boots with a sleek outsole work well to deliver that classic, put together look.
Chelsea boots come in many different varieties. Some have more tapered, pointed toes and these typically suit more formal occasions and so work well with tailored trousers, or a dress or skirt, with a blazer. Consider Blundstone Heritage Series such as the #152 or #153 that are made with tumbled leather and a Goodyear Welt that can be resoled. Other Chelsea boots are made with a heel that will instantly upgrade the outfit. Be on the look out for a cuban heel if you are looking for comfort in a heeled Chelsea boot. Take a look at Blundstone's Heeled boots such as the #1671 or #2365 that provide new heights of comfort and stellar good looks.
Ultimately, Chelsea boots are a highly versatile option for all types of formal occasions, creating a more a more elevated look than that of a traditional pair of loafers and more standout presence than a traditional pair of lace-ups.
How To Wear Chelsea Boots for Styling a Casual Look
So what is exactly does casual mean? Mostly its viewed as more relaxed, occasional, spontaneous and suited for everyday use. If you are looking for an injection of timelessness into your casual wear, search out suede or nubuck Chelsea boot options. A women's boot such as the High Top #1351 Chelsea boot in rustic brown from Blundstone is a day-to-night all rounder that delivers on iconic simplicity and versatility. If it's a mens boot you are looking for, then consider the Classic #585 in rustic brown, a leather-lined Chelsea boot that is built for mileage and ultimate comfort.
The best way to wear Chelsea boots for that smart casual look is by pairing them with a t-shirt or sweater with slim fit dark denim jeans or chinos. A pair of black jeans with a black t-shirt or cargo pants with a plain flannel shirt are some of the best complements for Chelsea boots. Wearing a pair of slim cut chinos with your Chelsea boots in colors like beige, navy, or khaki coupled with a casual shirt provide an ideal balance. For a cool, carefree fashion statement, pair black leather Chelsea boots or dark brown leather Chelsea boots with a leather or bomber jacket.
To dress down your Chelsea boots for a more casual look, put together worn denim jeans with a long sleeve t-shirt, or for a more rugged look, consider a colorful plaid shirt and work style cargo pants that have been put through their paces.
Chelsea boots are a refreshing alternate to a pair of sneakers, and invariably last a lot longer. A well worn pair of brown Chelsea boots with denim jeans and a white t-shirt, makes for an iconic casual look. Thinking about the fit of your jeans and whether you decide to cuff your jeans or not is totally a personal decision. Straight fit or slim leg, cuffed over suede boots is usually a safe bet.
Color can complement your boots and add more aesthetic interest to your outfit, as can a more textured leather options such as nubuck or suede. Consider darker suedes for a relaxed urban look, and brown suede or rustic leathers for more of that laid-back country feel. Consider earthy leather or nubuck tones such as green and sand to add more contrast to what you are wearing. Think about considering oily suede type finishes that provide even more dimension and take on more character as they age. For example, take a look at the olive green suede Chelsea boot, the Blundstone #1615, for an unexpected addition of color that is still neutral enough for everyday wear.
More than ever, Chelsea boots are now seen worn with all types of dresses whether that's mini and maxi dresses, sweater or slip dresses. A versatile staple for those on their feet all day, there is nothing like the comfort of a Chelsea boot. Try the utilitarian look of a midi dress with calf-height Chelsea boots or a silky slip dress with chunky varieties. A throw back to the 70's, mini skirts or dresses with Chelsea boots also provide a bold yet casual look; paired with different kinds of socks like knee to over-the-knee styles or tights in the same color shade as your boot.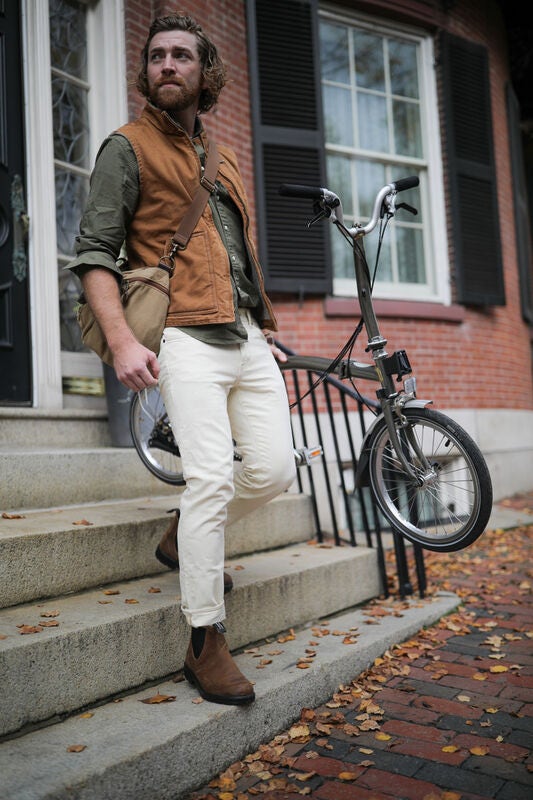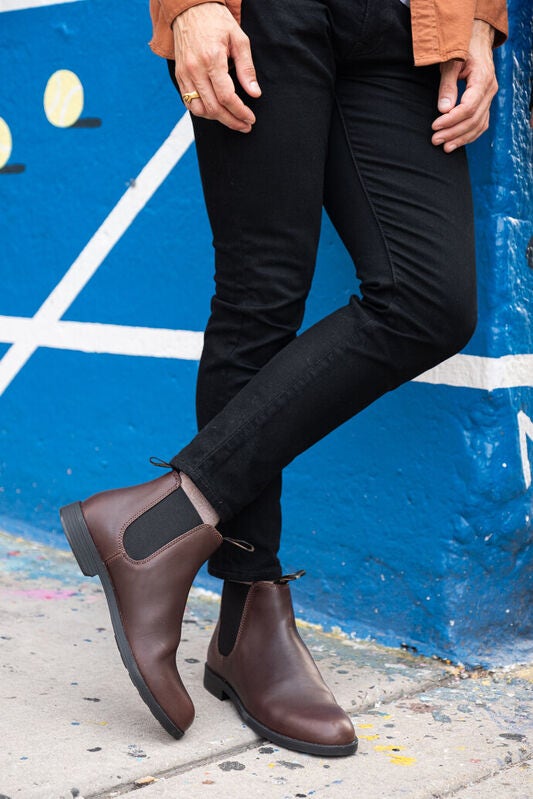 How to wear Chelsea boots for styling business-casual office wear
When heading to the office where business-casual is the expectation, Chelsea boots are a smart option that deliver on the all the dress code requirements, yet are versatile enough for heading out after work. .
Find out more in our "Are Chelsea Boots Business Casual?" Blog.
A Few Tips for Wearing Chelsea Boots
When choosing to wear Chelsea boots with any outfit consider the below:
For a more formal look, pant legs should sit over the top of the boot.
For a more casual look, consider a shorter pant leg and with a pair of Blundstones, showcase the signature pull-tabs.
Carefully consider the color of your boots, ensuring they complement the accessories and the color palette of what you are wearing.
Smooth leathers that you can polish are notably dressier than suedes or nubucks that have more of a rugged textured vibe.
Consider the outsole of a boot when you buy them. A TPU outsole combines good looks and function. Blundstone boots that have this kind of outsole are not just hardwearing, they are also comfortable for all-day wear.
Make sure that your Chelsea boots fit well, too much room in them is not a recipe for all-day comfort.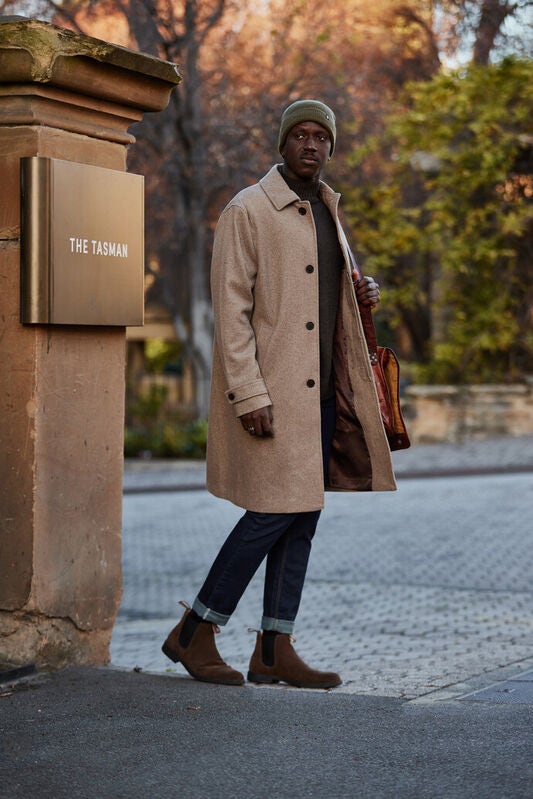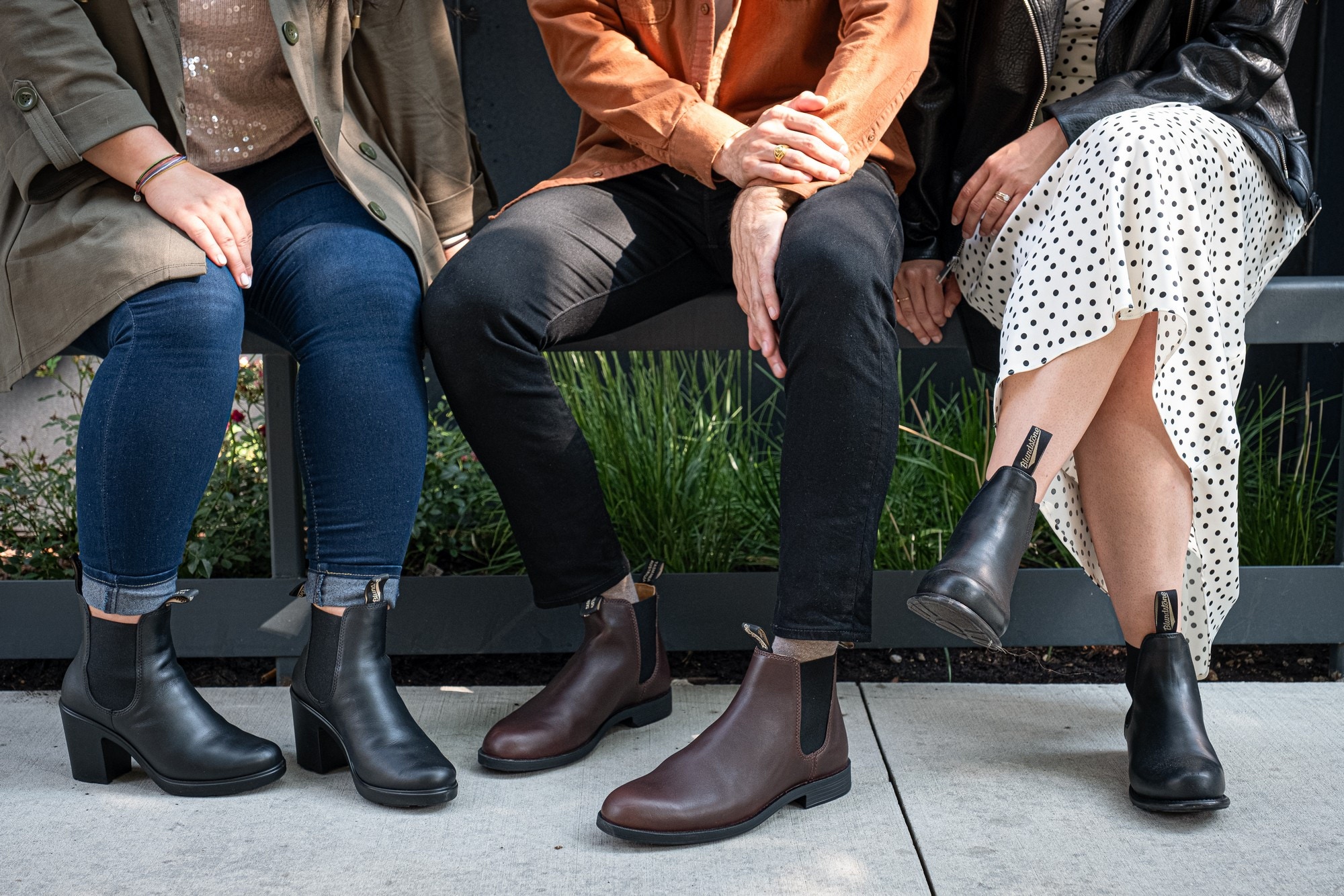 Chelsea Boots are the Modern Day Footwear Staple
A pair of Chelsea boots are likely the most versatile footwear choice you could make. Most people find that at least one pair of Chelsea boots is a welcome companion. Ultimately, whatever type of Chelsea boot you choose depends on your personal style and how you intend to wear them. However, what makes a Chelsea boot stand out is its versatility and comfort. An established boot brand such as Blundstone offers a full range of Chelsea boots that are beloved for iconic design, ultimate comfort and durability. Investing in a pair of premium quality Chelsea boots will be a decision you won't look back on..