Can I Wear Chelsea Boots in the Summer?
---
Are Chelsea boots right for the Summer?
Chelsea Boots are an all year-round option. If you've been wearing your Blundstone Chelsea boots through the winter and spring months we understand that you've grown attached to their unique comfort and style. Your bond to them has grown and now you're reluctant to put them away for the summer, we get it! No need to pack them away until the next cold front. Blundstone's in particular, are loved for their pull-on, pull off ease and the fact that they are also lightweight makes them the ideal lake-life or summer travel companion. Before we start, knowing the features of a Chelsea boot might help you decide how they are an appropriate year-round option for you.
Here are some key features of the Blundstone Chelsea boots:
Chelsea boots have elastic side panels.

This makes them easy to put on and take off, and also allows for a nice snug fit. The sides of the Chelsea boots cover your ankles to allow for maximum mobility while keeping your feet secured.

Chelsea boots are typically made from leather.

Blundstone boots are typically made from a variety of materials, including water-resistant leather which makes them ideal for navigating summer showers or wet terrain.

Chelsea boots are also a dress shoe option.

Made from more luxurious materials and sporting a more streamlined design, the higher ankle and sleek design means that they can be added to a business casual look no matter the season.
Ultimately, the best type of boot for you will depend on your personal style and needs. The versatility of Chelsea boots makes them adaptable for a variety of occasions that summer heralds – think summer music festivals for creatives, navigating light hiking trails or beach-combing for the adventurers, picnics for functional fashionistas or vineyard wanderings for traveling wine lovers. Additionally from a styling standpoint, Chelsea boots are that classic, stylish and easy-to-wear boot that can be dressed up or down, so you'll find they fit right in to your summer wardrobe. So stick around for some easy chelsea boot outfit ideas that will showcase their styling versatility.
---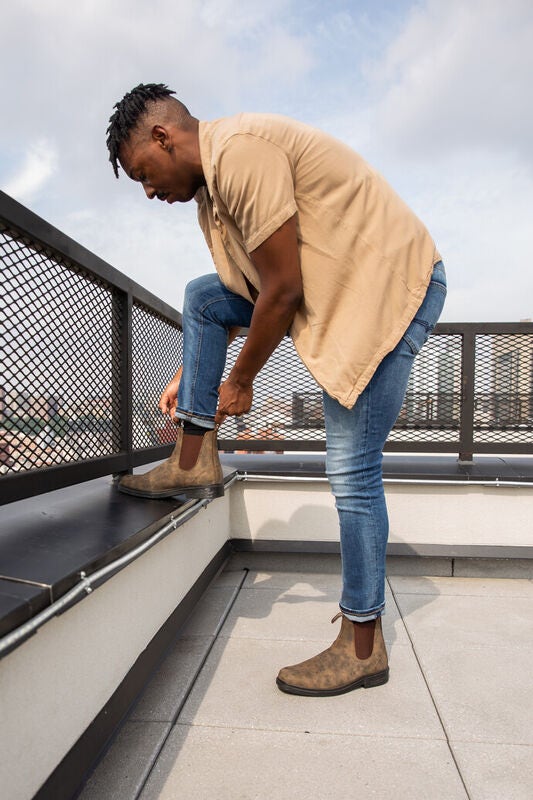 Matching Fabrics and Colors
The first step to wearing the iconic Chelsea boots around in the warmer months is to make sure you're choosing the right materials and colors to match your style and to keep you cool in the heat. Chelsea boots are typically made from leather, so, if you are going to wear Chelsea boots in the summer, choose ones that are breathable and light weight such as Blundstone Original 500 boots or Dress boots in brown leather or if you prefer black leather, the Blundstone Original 510 boot or the Dress boot style 063.
Opt for an unlined boot when picking out your leather Chelsea boots as a versatile summer option as the leather will breathe and help keep your feet cooler. Lighter brown boot or suede colors, such as beige or tan can also help to reflect heat away from your feet, and coupled with thin or secret socks (or no socks at all if that's how you roll), then the heat won't be a problem and your feet will stay comfy and cooler. Fashion trends and function fuse when Blundstone boots grace the feet of dress-wearers going for a trendy, contemporary look.
We recommend matching your pair of Chelsea boots with a skirt or shorts for an extra breathable combo. If that's not your style and you're more into chinos, jeans or linen pants, we suggest rolling up your pants at the ankles for the same effortless effect. Not only will this add a sophisticated look to your casual outfit, but it will also give you a chance to show off the iconic pull-tabs of Blundstone boots.
Choose your Suede or Leather Styles
Once you've chosen your preferred shade of black leather or brown boots, or perhaps you went for the suede boot option, the second step is to style the shoes to complement your outfit and your unique look. If you're a shorts and white t-shirt type of person and you're worried this won't match the utilitarian look of your Chelseas, you don't need to worry anymore. There are many ways to tie boots into this more casual look while reflecting your own personal style.
First off, try pairing your shorts with a belt. By matching your belt leather to the leather of your boots you create cohesion in your aesthetic. By linking the color and materials of your belt and boots your casual outfit gets elevated to a whole new level. If belts aren't really your thing, the same effect can be reached with the right choice of bag. A sling bag for your laptop that picks up on your boot's shade of leather, or a shoulder bag that does the same, is a fashionable way to complement your Chelsea boots in the summertime. If you use both a belt and a bag, paired with a denim jacket, you're even more set up to sport the ideal summer outfit. The denim won't be too overwhelming in the heat and the variety of textures will add extra panache to your classic shorts and t-shirt combo.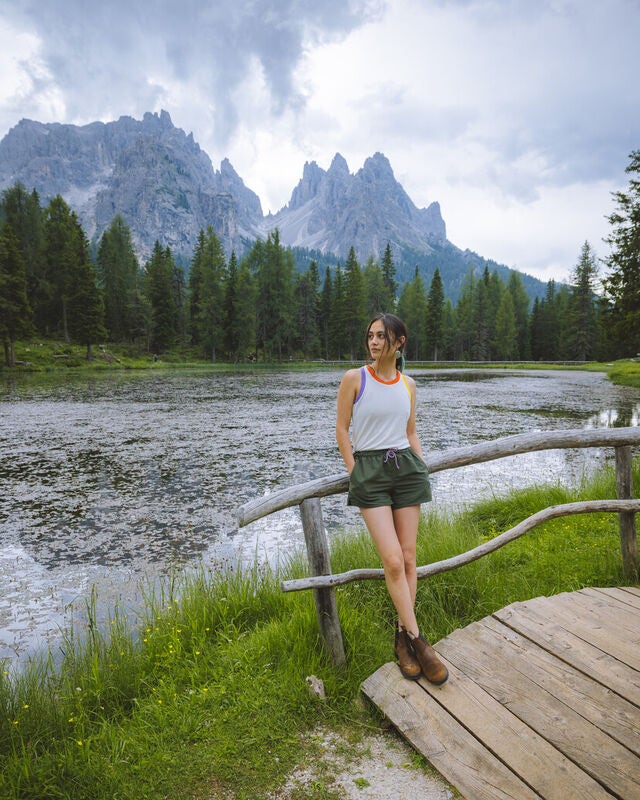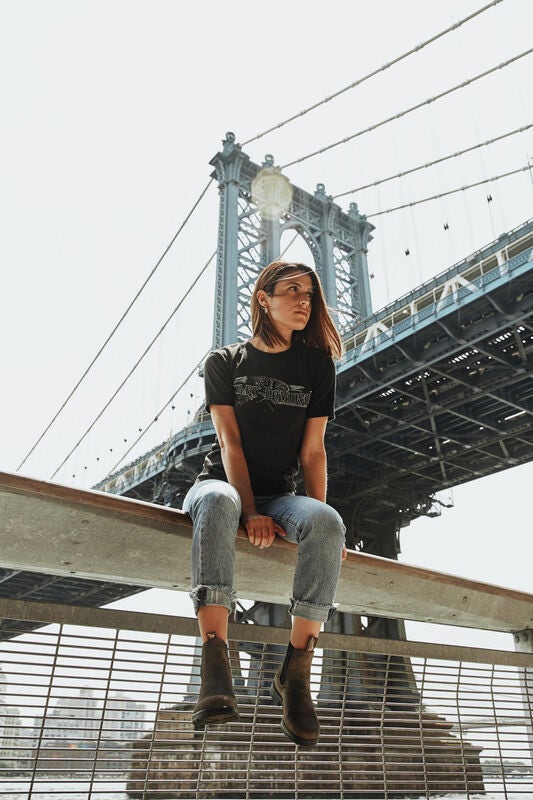 Styling & Pairing with Chelsea Boots
If you're into a more dressy look, a skirt and blouse that matches the color of the suede or leather that you've chosen will look great. If you've opted for a softer tan or suede Chelsea boot, try pairing them with a dress or skirt that's pastel or light floral colors. The brighter colors will stand out beautifully with your toned-down shoes, and the softness of the leather will complement the aesthetic. The bag or belt that matches your shoes will also work on this combo of clothing and could help in making your outfit a little more functional for every day.
Dress up with Chelsea Boots
If pants are your thing, then your summer options are much wider, as the classic boots are famously stylish when paired with a good pair of your favorite pants. Skinny jeans work well with any type of leather boots, as long as you're matching the color of the denim to the color of your shoes, and get comfy in this easy laid-back look. For a more refined or elegant look for those summer barbeques and business casual luncheons, think about going for the chino and Chelsea combo. You can roll up the ankles or keep them down, and pair it with a white or neutral collared short sleeve, any way you wear this summertime combo you're guaranteed some extra polish.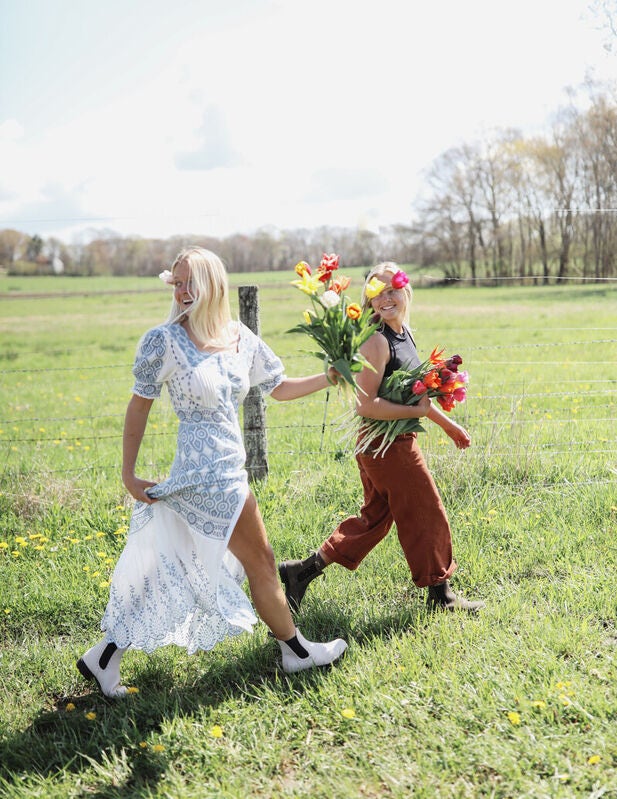 ---
If you're looking for a change and something more airy in the hot months, then you might want to consider trying out a loose pair of linen pants. Neutral colours, like white, cream, brown or cargo would be your best option here, depending on the material of your boots, as neutral colors are known to compliment the various earthy tones of leather that Blundstone boots offer.
---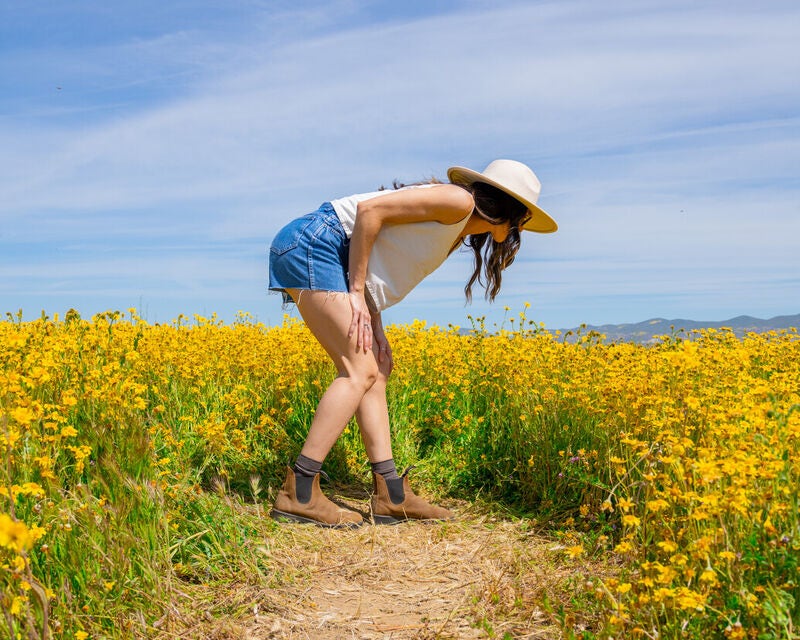 Whether spring, summer, winter or fall
No matter the weather, if you know how to choose your leathers and style your Blundstone boots with the right accessories and fashion hacks, Chelsea boots are the right shoes for you year-round! Don't shove them in the back of your cupboard for summer while you try to clean up those old sneakers, stick with the elegance, stick with your classic style by adding your Chelseas to the line summertime up!