How comfortable are Blundstone boots?
---
Your pair of Blundstone boots is designed with no-nonsense weatherproof leather uppers, elastic side panels, and our iconic pull-tabs of a classic Chelsea boot look. Harking back to the 1960s, this rugged Australian staple has infiltrated the fashion world while keeping its form and function as a high quality work boot.
Typically, the features of any comfortable boot are ample shaft width, modest heel height, a cushioned insole, a roomy toe box that prevents toes overcrowding, supports the arch, and cushions the feet when walking. If you are thinking about buying a pair of Blundstone boots and are considering their comfort level, it is important to try them on in person to see how they fit and feel.
Importantly, sizing is the starting point for ensuring your Blundstone boots fit comfortably, as an ill-fitting boot is a surefire way to guarantee blisters, abrasions, and foot fatigue. All Blundstone boots have their size stamped on the bottom of the boot, in Australian and UK metrics.
---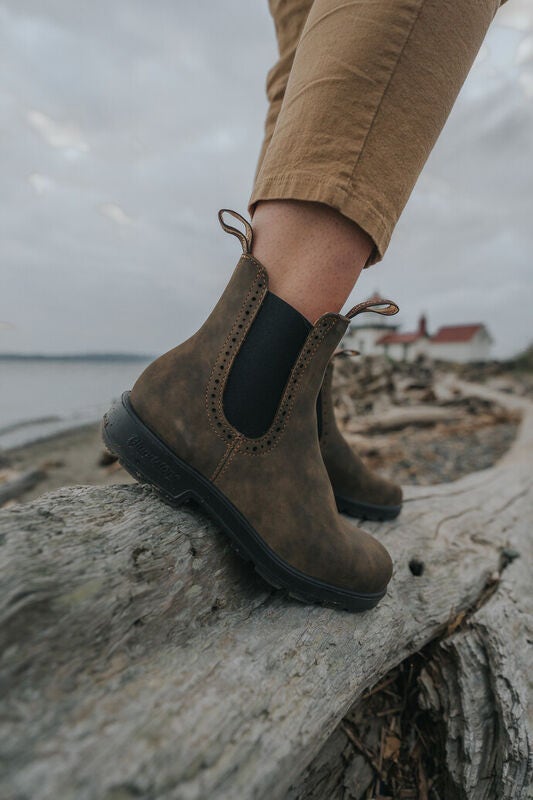 Blundstone boots fit true to size and the leathers will soften and stretch to mold to your feet over time, making them more comfortable.

Make sure there is around a quarter-inch of space from the tip of your toe to the toe-cap.

Select a half-size up if you prefer more wiggle room for your toes and a wider fit.

When trying on your Blundstone boots, allow for a slight 'give' in the heel.
With repeated use, your Blundstone boots will stretch slightly over the instep, but never along the length. To ensure your comfort and make your purchase worth it, get the correct size boot to suit your foot form.
Blundstone boots designs have been constructed with a variety of features to improve comfort for the average user:
Soft, leather lining that molds to the foot for a snug fit.

A cushioned midsole that absorbs shock and provides support.

A durable outsole that provides traction on a variety of surfaces.

An extra footbed that can be added or removed for personalized comfort.

XRD foam strategically placed in the heel strike of the insole.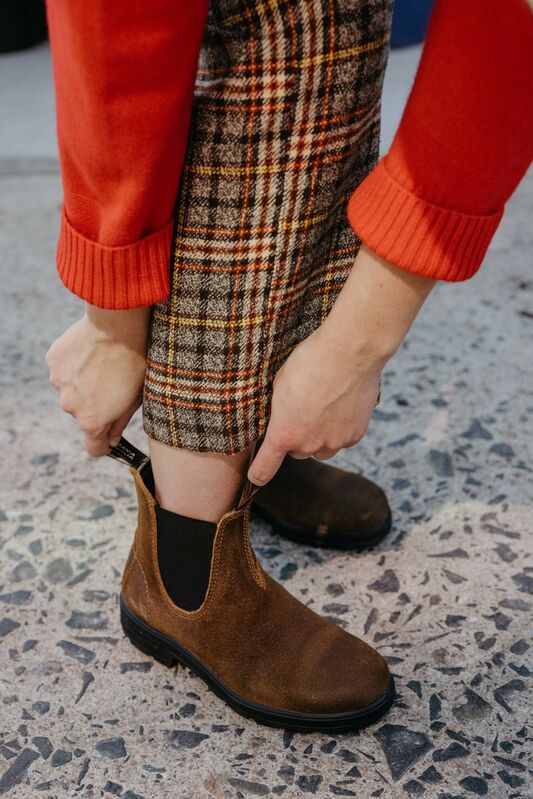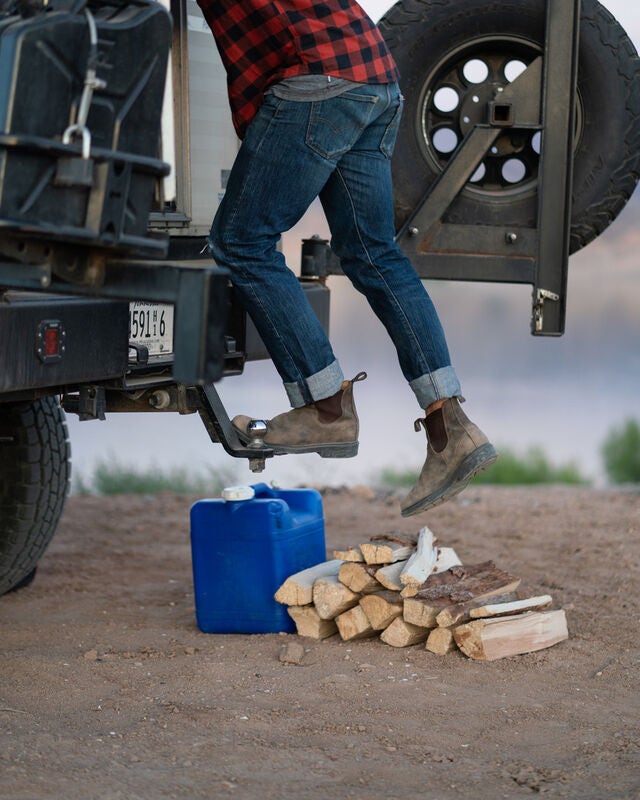 Which Blundstone style is the most comfortable?
The Blundstone 550 and Blundstone 500 are two of the most popular Blundstone styles. Both are comfortable boots, each affording the wearer with some key differences that may make one boot more comfortable than the other, for different boot lovers.
The #550 is a slightly rugged, Chelsea-inspired boot that is a supportive fit with water-resistant leather and non-slip treads.
The Blundstone 550 has a few features that can deliver greater comfort than the 500:
A leather lining in the shaft, provides a warmer fit.

The #550 has a thicker TPU outsole, which provides more durability and traction.

It has a steel shank, which provides additional arch support.
The Blundstone 500 also delivers comfort features:
Slightly lighter weight than the #550 means less foot fatigue.

It has a more flexible sole, which makes it more pliable and easier to walk in.

The Blundstone 500 has a more breathable leather upper, which helps to keep your feet cool.
Ultimately, the most comfortable Blundstone boot choice will depend on your individual needs and style. If you are looking for a warm, comfortable boot that will provide you with good support, the Blundstone 550 is a good option. If you are looking for a light, flexible boot, with breathability, then the Blundstone 500 is a good choice.
Choosing the best boots for your intended use means paying attention to what the underfoot conditions of your environment will be. Originally designed for the outdoor conditions of the Australian island state of Tasmania, Blundstone boots were conceptualized to take on whatever Tasmania threw at them whether it be uneven surfaces, wet conditions, or slippery surfaces, all while remaining comfortable and easy to wear.
Beyond the durability of the boots, also consider your physical activities. Whether you are a festival-goer, hiker, or intending to pair your new Blundstone boots with casual workwear or dressed up for a night on the town, consider how long you will wear your boots and what thickness of socks you will wear with them if you are to get the best comfort level for the price tag. Someone buying their first pair of boots for a fashion statement will be looking for very different features than someone purchasing work boots for the office or for work on an outdoor construction site. Comfort needs to be fit for purpose.
If your Blundstone boots seem to be uncomfortable at first, this is because they need to go through a break-in period. The time needed for the break-in period will vary amongst boot wearers. The goal of the break-in period is to start to stretch the leather to mold to your foot form and minimize discomfort.
Some methods to break in your your Blundstone boots are quicker than others, but all the procedures should guard against damaging the materials used in the design and construction of your Blundstone boots. While a weathered look has vintage appeal, you want your comfortable new boots to stay conditioned and durable. Wearing them in does not mean you want to wear them out!
.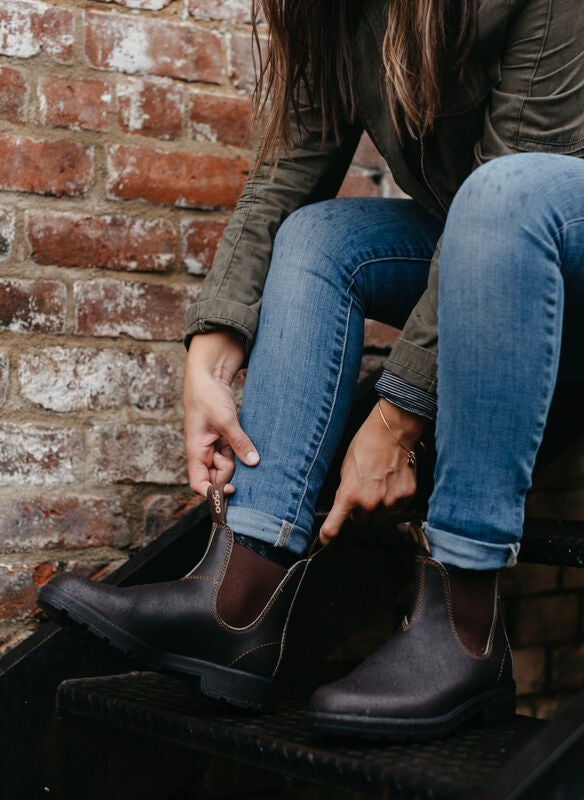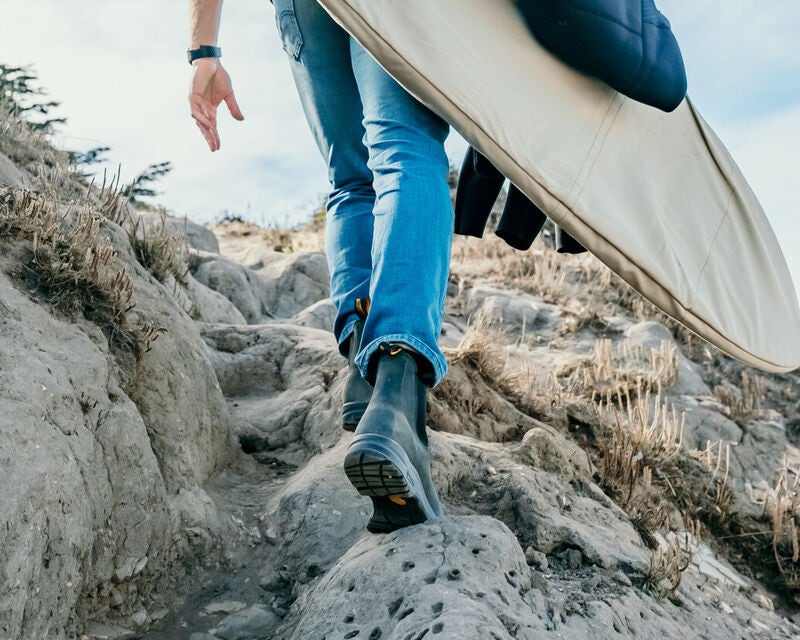 Additional things to consider when choosing Blundstone Boots:
The style of the boot. Blundstone boots come in a variety of styles, from classic Chelsea boots to more rugged work boots. Different styles like high top or laces, while suiting your individual style, also offer varying levels of comfort.
The size of the boot. Blundstone boots are sized in whole sizes, so find the right size by using Blundstone's online sizing tool for a perfect, comfortable fitting.
The color of the boot. Blundstone boots come in a variety of colors, from black and brown to tan and navy. Choose a color that you like and will enhance your wardrobe.
The boot uppers. Suede uppers are more supple and may offer a softer fit.
The climate. Depending on the seasonal weather conditions you live in, you may require different insulation and breathability features to keep your feet comfortable, prevent overheating, and reduce the risk of sweat and infection.
Good luck with exploring the Blundstone range of boots to find the one (or more) which will become your go-to companion for comfort, versatility, and durability.