---
If you love our Chelsea boots but are gearing up for outdoor escapades or chasing the boot trends of some slightly sturdier footwear, then the chunky Lug sole Chelsea boots are the ones for you. Lug boots toe the line between practical and stylish. This work-meets-streetwear boot has been crafted to foot the bill of both function and fashion.
So, what exactly are lug boots? Imagine footwear that screams "rugged" from the moment you lay eyes on it. "Lug" refers to the thick, chunky outsole patterns designed to provide excellent traction and grip. Whether the terrain is rough and uneven, or the roads snowy and slippery, this boot style is ready for it all.
Originally designed for hardworking lumberjacks and outdoor workers in the early 1900s, lug boots were the go-to choice for those who needed reliable traction and support in demanding environments. Fast forward to the 1960s, and these became a hot fashion trend that has thrived ever since.
One of the best things about lug boots is their versatility. Need a pair of reliable work boots that can handle the toughest tasks? Lug boots have got your back. Planning an exciting outdoor adventure like hiking, or camping where you might encounter harsh terrain? Lug boots will help you tackle slippery condititons with traction. And they're not just functional, they are also a bold fashion statement! Lug boots are durable, comfortable, versatile and stylish. Inspired by the hard-working work boot range Blundstone is known for in Australia, lug boots come colored in A traditional black boot color, or our iconic rustic black or brown and can be paired with a wide range of styles and materials. Anything from denim jeans, cargo pants, turtlenecks and leggings to dresses and skirts, Lug boots can add an edgy touch and combat boot feel to almost any outfit.
Now that you're equipped with the lowdown on lug boots, it's time to choose your perfect pair. Explore the vast array of boot outfits available, and get ready to step into a world of unbeatable comfort and undeniable style. Whether you're a hardcore adventurer, a fashion-forward trendsetter, or simply in need of some reliable work boots, lug boots are a great choice.
So, what are you waiting for? Slip on those lug boots and take on your next adventure with confidence. Still not convinced? Here are some more of the benefits of this boot style that might persuade you:
First off, Blundstone boots in particular are built to last, so you can rely on them to withstand tough conditions and keep going strong.
It's not just about durability and grip – comfort is key too! Blundstone lug boots are crafted with our most comfort tech footbed that supports your foot and absorbs the shock as you walk, keeping your feet happy. No more achy feet after a long day of exploring or working.
When it comes to facing the elements, Blundstone boots have you covered. With premium water-resistant leather and a slip-resistant outsole, these boots are ready to take on rain or any other wintry mixes.
Now, here's a bonus: putting on and taking off these boots is a breeze. Blundstone's iconic elastic side panels and pull tabs, means you can slip them on and off in a snap.
So, there you have it – Blundstone lug boots bring durability, traction, comfort, versatility, weather resistance, easy wear, and timeless style to your feet. With all these benefits, they're definitely worth considering for your next adventure or everyday wear.
How to Lug Boot? Style tips and outfit ideas
Lug boots can be worn in a variety of ways, depending on the occasion and your personal style. Here are a few tips on how to 'lug-up':
---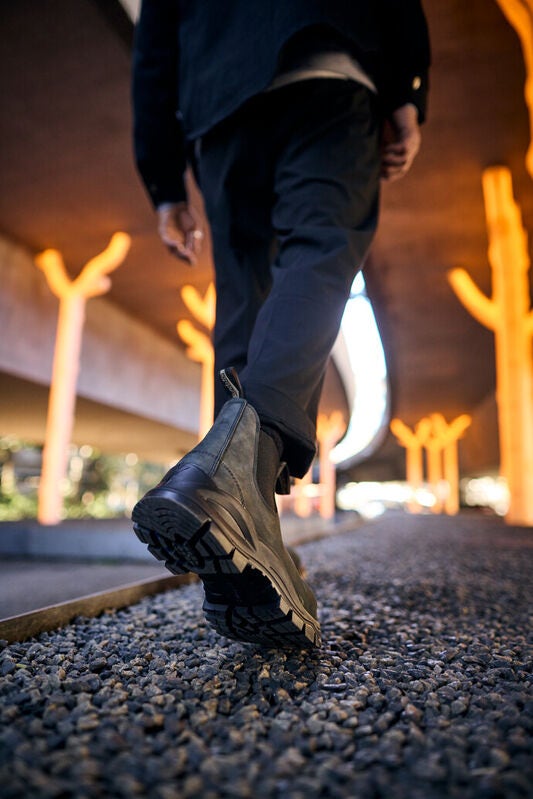 Casual Cool
Button-down shirts, wide leg jeans and a cardigan are staples of this look that all pari well with Lug boots.

Try our Blundstone lug boots with your favorite fall outfit, perhaps a pair of straight leg jeans, a relaxed-fit graphic t-shirt, and a shacket layered on top.

Adding a denim or leather jacket gives a dressy yet edgy touch to a midi dress and accessorizing with a beanie and a backpack can really bring home that casual, cool vibe.
Outdoor Adventure
Embrace the boots' rugged nature and go for a practical yet stylish look.

Wear lug sole boots with durable hiking pants or cargo pants, a moisture-wicking base layer, or a lightweight puffer jacket to combat some cold weather.

A cozy beanie, backpack, and sunglasses are other potential necessities to complete the adventure-ready ensemble.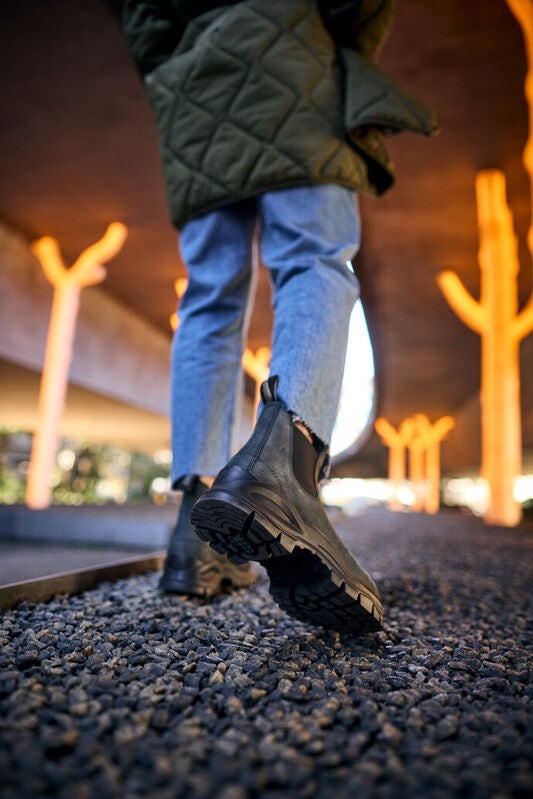 Boho Vibes
Create a bohemian-inspired look by pairing your Blundstone lug boots with a flowy maxi dress, some wide-leg jeans or a printed midi skirt.

You can also layer on a chunky knit sweater or a trench coat and accessorize with a wide-brimmed hat and some layered necklaces for the relaxed, boho vibe.
Street Style Edge
Hoodies, skinny jeans, leather or faux leather moto jackets, and a graphic tees are all great 'lug' combos for an edgy outfit.

Leather pants are great for this style and studded belts, beanies, and a statement backpack or crossbody bag can all help create an 'edgier' look.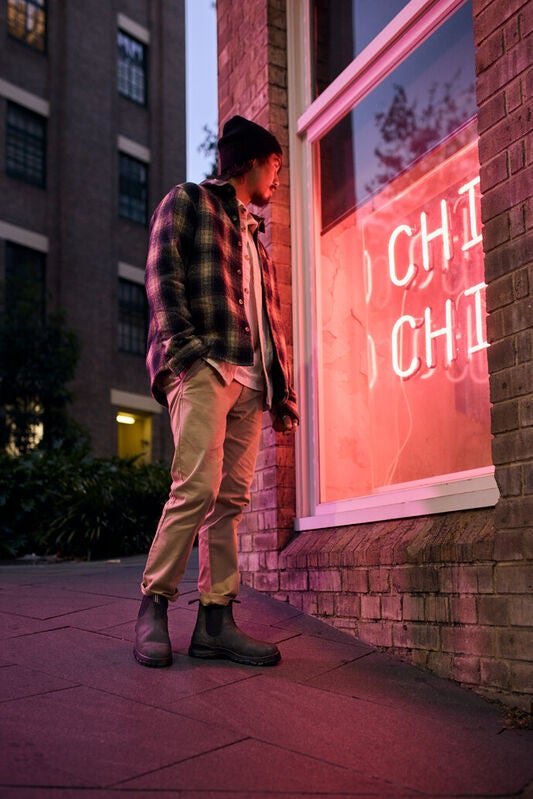 ---
Date Night Dress Up:
Lug boots can also be dressed up for more formal occasions. Match them with tailored trousers, a crisp button-down shirt, and a blazer for a smart-casual ensemble with a rugged twist.
Remember, the key to styling Blundstone lug boots is to embrace their rugged charm while adding your own personal touch.
---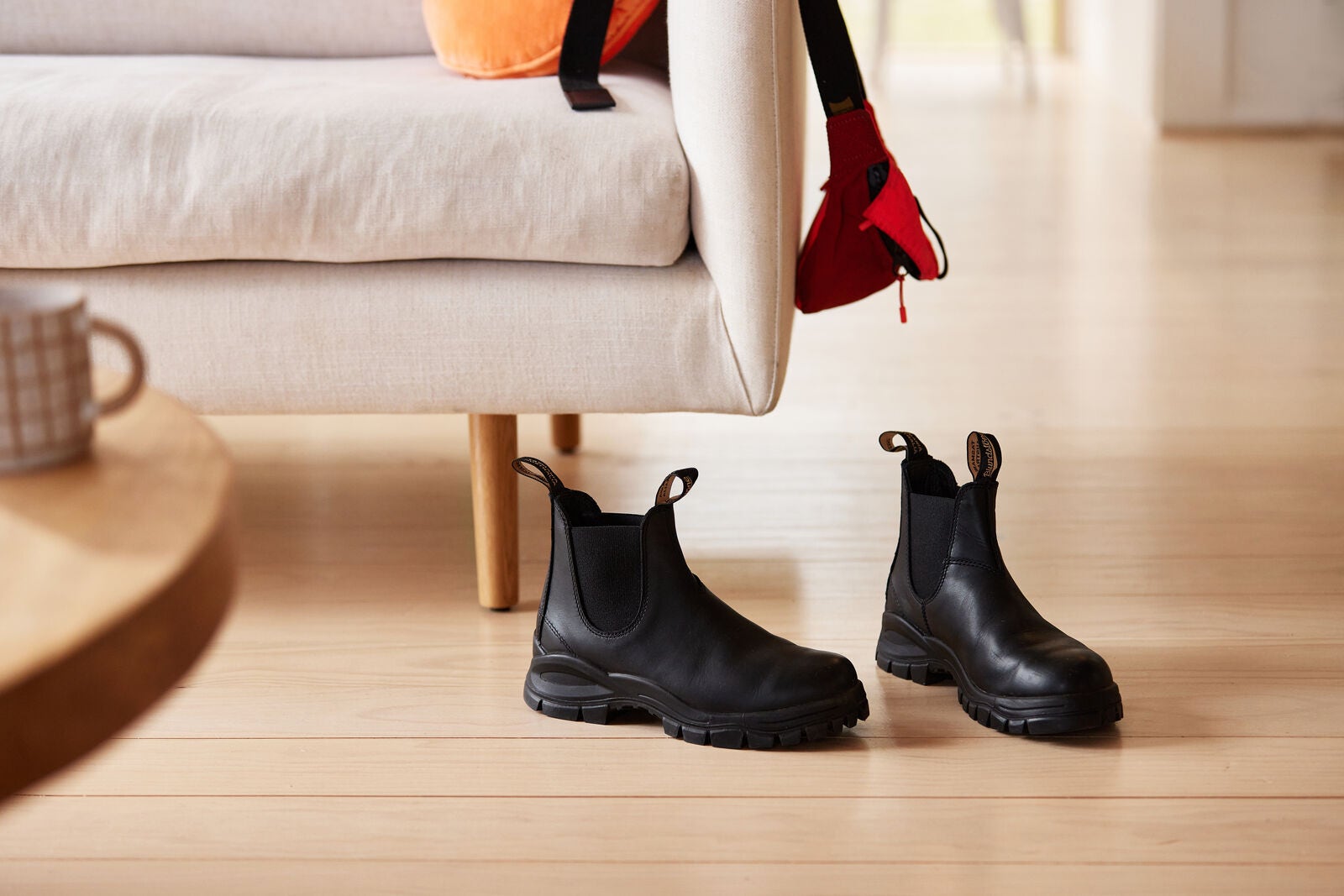 Wear and Care:
Here are some additional tips to get the most out of your Lug boots:
Snug Lugs - Make sure your boots fit properly. Lug boots should be snug but not too tight.

Lug 'em around - Wear your boots for short periods initially to allow your feet to adjust gradually. If you need to soften them further, consider using leather conditioner or wearing thick socks to minimize discomfort.

Show your Lugs some Love - Clean your boots regularly. This will help to keep them looking and performing their best when enduring tough weather conditions.