Socks to Wear With Blundstones
---
The type of socks may vary depending on the material that they are made of, like cotton socks or wool socks, the design and color, and the fit, like ankle socks, crew socks, or knee-high varieties. Socks are most commonly thought of as accessories that are hidden inside shoes, but not only are they a practical clothing item for cushioning your feet, lower legs, and providing arch support, they can also make a statement about what kind of boot wearer you are. Matching the ideal pair of socks with boots is not necessary to keep your legs and feet warm and cushioned against abrasions, but can also add more individualistic expression to what you are wearing.
Which type of socks work best?
Several different types of socks work well with Blundstone boots. The best type of sock for you will depend on your personal preference, the climate you live in, and the type of Blundstone boot you own.
---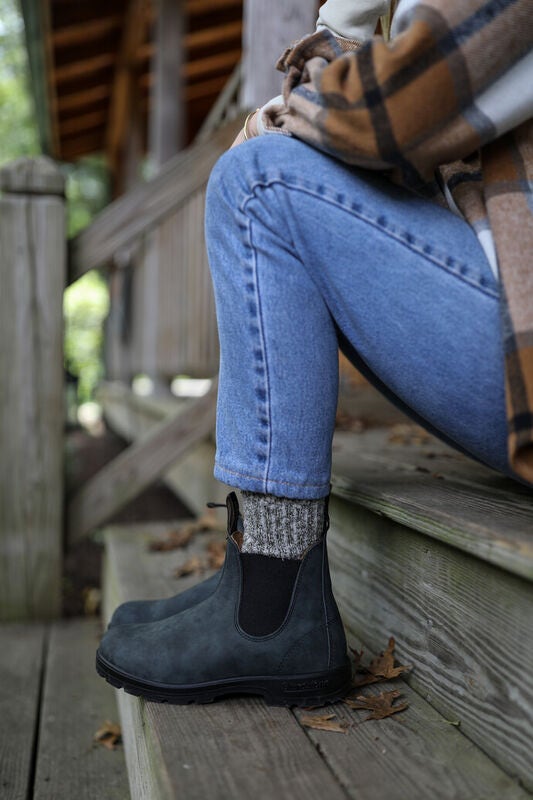 Thicker socks are a good option if you are looking for a warm and comfortable fit that insulates your feet against the cold. Although you may feel that thick socks are more confining and less breathable, they will be better at moisture-wicking and keeping hardworking feet less damp from sweat. Thick socks will help to insulate your feet and keep them warm in cold weather. In terms of styling, thick wool socks with a mid-calf rise design worn with skinny jeans and a sweatshirt, or leggings and an oversized sweater, peeking over the top of your Chelsea boots, is a look that's always on-trend.
Merino wool socks are a great choice for all-season wear. Merino wool is a natural yarn that is moisture-wicking and temperature-regulating to ensure dry feet in warm or cold weather. Be on the lookout for Australian Merino wool socks that are made with locally sourced, quality yarn. Thinking about styling? For a more formal look, consider pairing Merino socks with your Blundstone Dress or Ankle boots.
Cotton socks are another natural, breathable fabric that is a good option to ensure your feet are comfortable in your boots. Not as moisture-wicking as Australian Merino wool socks for example, but still breathable, cotton socks pair well with dress boots, Chelsea boots, or a pair of Blundstones for smart-casual wear. Cotton socks are a good option if you are looking for a more affordable option. Cotton socks are not as moisture-wicking as merino wool socks, but they will still keep your feet comfortable in most climates. Patterned cotton socks peeking over the top are a cheeky addition to your Classic or Original Blundstone boots.
Hiking socks are an alternative option if your pair of Blundstones are going to do lots of walking or light hiking. They are designed with strategically-placed cushioning and enhanced impact protection for the ultimate hiking fit to increase support for every stride you take. Hiking socks are a good option if you are going to be doing a lot of walking in your Blundstones. Hiking socks are designed to provide support and cushioning, and they will help to prevent blisters. Hiking socks tend to be worn with Blundstone Lace Up boots to maximize support and comfort for light treks.
Bamboo socks made from organically-grown bamboo, are great for the environment as well as your skin. Naturally antibacterial and breathable, their reinforced toe and heel features add to their durability and longevity. You may see Blundstone Vegan boots coupled with bamboo socks, for example.
Dress socks, while known for being traditional, now come in bold patterns and colors thanks to brands like Happy Socks and Bombas. Dress socks are a sophisticated expression when coupled with a more chic boot like the Blundstone Heritage Series or the Men's Ankle boot.
Blundstone socks are expressly made for Blundstone boots. 100% ethically sourced Australian wool socks are made from strong yet soft wool fibers from Merino sheep. The socks' reinforced heel, toe, and arch brace provide enhanced support and comfort when paired with your Blundstone boots. Designed for supreme durability and performance, Australian Merino wool socks regulate temperature and moisture changes to maximize your feet's comfort for all-day wear. The seamless toe ensures a cushioned fit, while the rib welt ensures that your socks stay in place, reducing friction and blisters. A bonus feature of Blundstone socks is the two-year NO HOLE warranty. Special ribbing ensures your slip-on socks stay up when pulled up, stay in position when pushed down, or hold the line anywhere in-between to make their pairing a perfect boot sock match. Look after your boot socks to maximize their lifetime by using mild soap in lukewarm or cool water, hand wash or machine-wash on gentle cycle and dry naturally.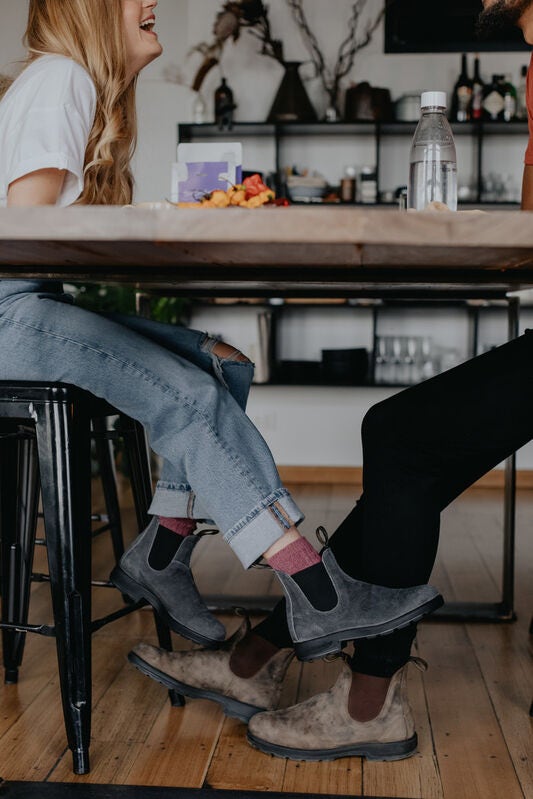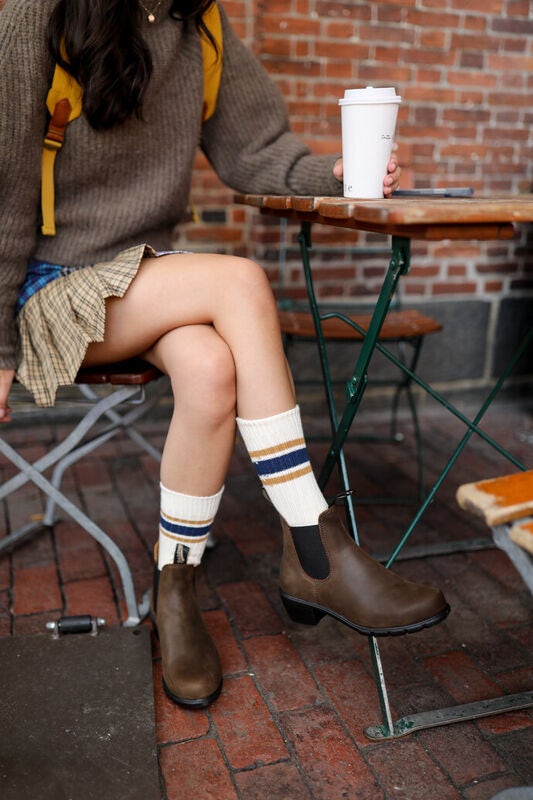 Whether you're wearing boot socks paired with work boots or Chelsea boots, relaxing at home or doing outdoor activities, your sock padding and fit should allow for maximum comfort and showcase thermoregulating properties that keep your feet warm or cool, depending on the climate.
To choose the right socks for your Blundstone boots:
Consider the climate you live in. If you live in a cold climate, you will need thicker socks to keep your feet warm. If you live in a warm climate, you can get away with wearing lighter socks, while natural fibre thick socks are still a comfortable, fashion statement.
Consider the activities you will be doing in your boots. Lots of walking and hiking needs socks that provide support and cushioning.
Think about fit. It is important to make sure that your socks fit snugly but not too tightly. Constricting socks can cut off circulation and cause your feet to feel cold. Loose socks can slip and bunch up, causing discomfort and blisters.
Consider doubling up on thick socks when breaking-in a new pair of Chelsea boots such as Blundstones to help your boots to mould to your foot shape and soften up. While socks can come in one-size-fits-all, there is no one-size-fits-all answer.
Remember if you are at work and on your feet all day, opt for socks that complement your outfit but pick ones that also deliver on comfort.
Styling is important to some. Try crew socks for added warmth and leg coverage. Taller than ankle socks, they can be pulled up to mid-calf or cuffed at the top rim, for a different look. For a casual style, ankle socks give a laid-back vibe.
Looking for that look that's more individual? Patterned or colourful socks can add a pop of color and a personal touch to your wardrobe. They come in all types of colors and interesting patterns from brands such as Happy Feet, Stance or Paul Smith.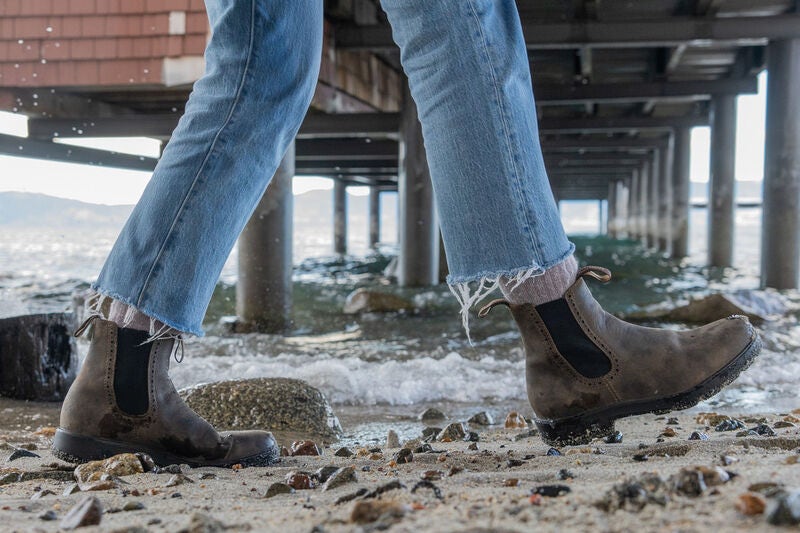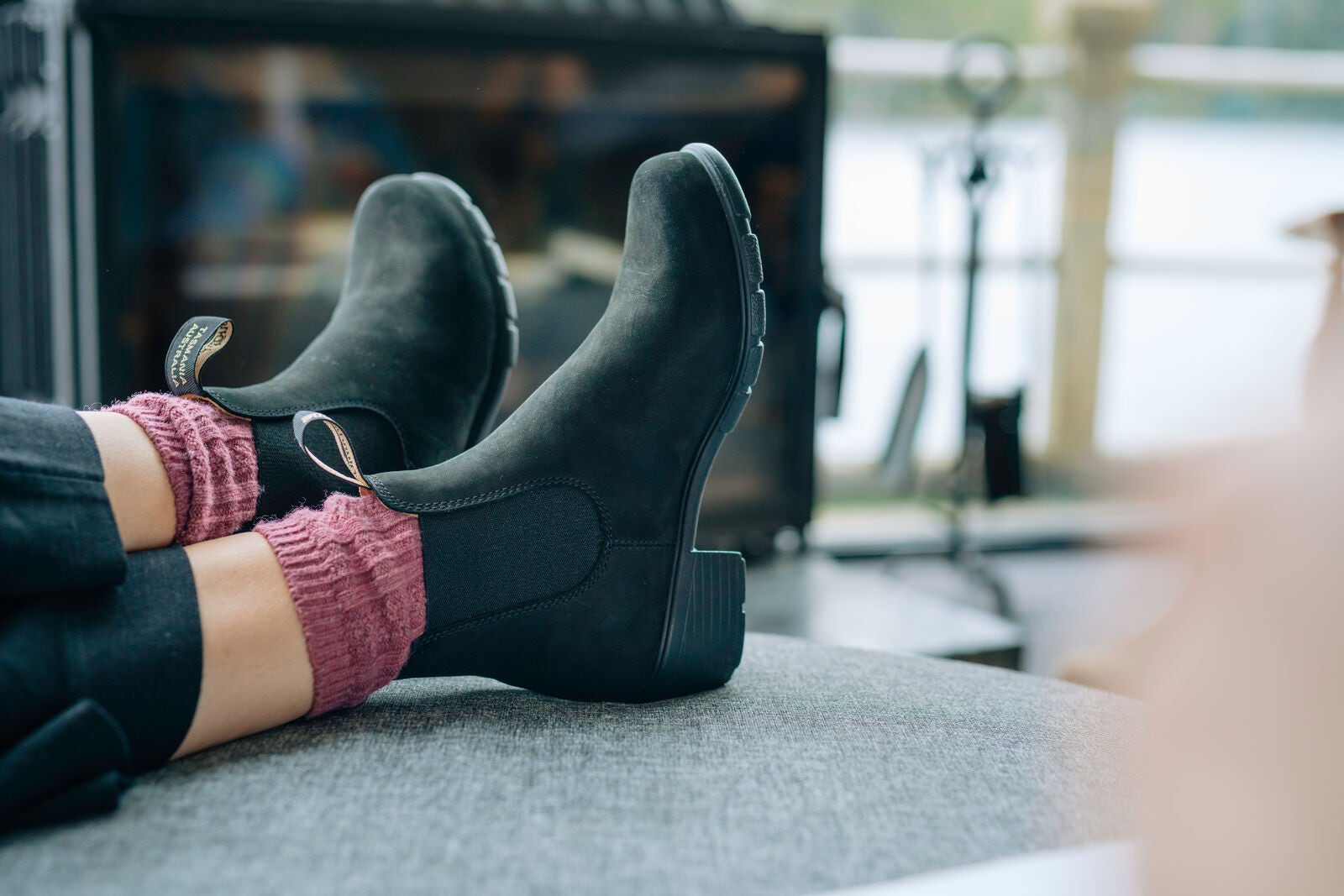 Find the right socks for you
Experiment with different types of socks to find what works best for you. Ultimately, the best socks for you will depend on your individual preferences, style and needs. Whether chunky wool socks for a warm winter look or sleek, patterned socks for a punchy fashion statement, remember to strike a balance between the comfort and style that your boot socks provide.
The best way to find the right socks is to try a few different types for a first time and see which option feels the most comfortable.