What Color Blundstone Boots Should I Get?
---
Whether you want a classic look or are looking to make a bold fashion statement, Blundstone boots come in a myriad of popular styles, making our Chelsea boot turned fashion staple an ideal unisex footwear choice. The elasticated sides and signature pull-tabs paired with water-resistant leather comfort are available in or iconic chelsea styles, lace ups or dress boots.
Known as 'blunnies' to Aussie Blundstone afficionados, you will never look back having purchased your first pair of Blundstone boots.
Blundstone Classics for example, come in a Chelsea boot style made from leather, nubuck or suede for example. Know for their added features, they are leather lined and offer a lightweight, durable outsole. Typically long-wearing, your first Blundstone purchase will be worth it when your feet experience the premium quality, snug fit and comfort, after the short break-in period, afforded by 'blunnies'. Some of the best selling Classic Series boots are the rustic brown #585, the antique brown #1609, and the black #558.
A range of styles means you are spoiled for choice with Originals, Classics, Dress, Vegan, Lug, Active, Thermal and Lace Up being just some of the options. But what color should you choose to maximize your wear and look the part you have envisioned for yourself?
---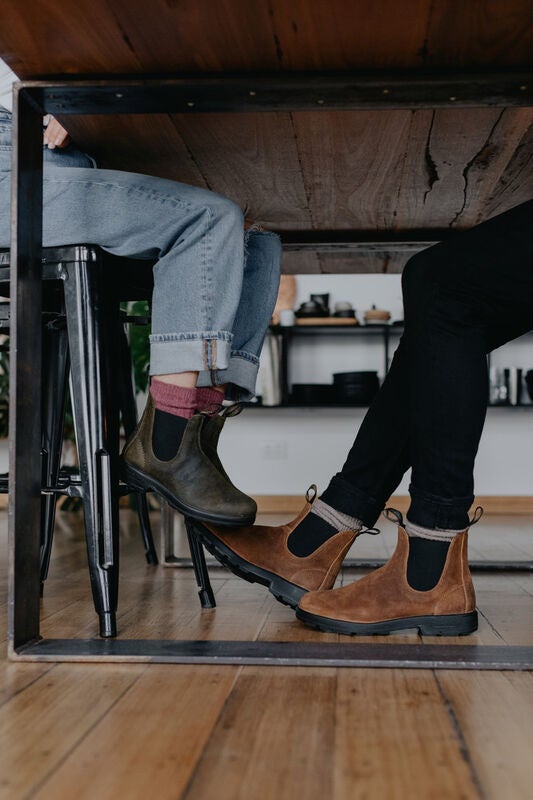 What does your wardrobe look like?
For a first pair, brown boots may be a more versatile choice for a wardrobe that is a mix of different colors. Brown boots pair well with skinny jeans, chinos, shorts, dresses, or skirts.
Whether walnut brown, stout brown, or rustic brown, all the brown hues are a neutral addition to your wardrobe.
Brown leather also ages and patinas more noticeably than black leather - if you're looking for a more weathered-leather look.
Black leather boots can be more formal or better suited to a monochromatic wardrobe dominated by greys, whites, and blacks. Many Blundstone boot styles come in black, which make them interchangeable for casual or work occasions. Red elastic gussets in a black boot, such as the #1316, are a stand-out fashion statement that demands to be seen.
Black or brown, Blundstone Chelsea boots are all made from soft, natural material that molds to the shape of your foot with wear after a break-in period. Fashion marries function when your brown or black boots make a suitable addition to business casual wear.
A great accompaniment to everyday outfits is available in a rustic brown, such as the Classic Chelsea #585. This has variations in shades of brown that is well matched to a fall and winter wardrobe, paired with flannel shirts, jeans, or corduroy pants.
Rustic black boots, like the Classic Chelsea #587, give off a cavalier, edgy feel with a more weathered appearance that is not too polished.
Dark navy boots or navy suede are a good choice if you are looking for a boot that can be a bit more dressy than black or brown, to wear to a work or to a semi-formal event. A pop of color with fuchsia or burnt orange elasticated sides, makes for an individual statement.
Tan leather boots are an alternative choice for a lighter toned footwear. These look good with shorts, skirts or dresses and are definitely date and office friendly.
Steel or dusty grey boots are a more muted color variety with a classy feel.
Shiraz or redwood options offer a stylish deep red coloring to your footwear selection.
Olive green or dark green boots are an individual statement that add a fashionable touch to your choice of iconic chelsea boots.
White leather is a standout style statement that is a bit more unique and provides a visual contrast. The women's heeled style #2160 is distinctly feminine, with whitewashed denim or linen.
Ultimately, the best color of upper with a pair Blundstone boots depends on your personal preference and the style you want to achieve.
With options ranging from classic black to red, there's a color to suit every taste. For versatility and timeless appeal, consider the classic black or brown options. Pair neutral shades with outfits for everyday wear. On the other hand, those that are more adventurous can opt for an eye-catching colored pair of Chelsea boots, or ones with a vibey red elastic elastic for a bolder statement.
Classic or statement, there's a pair of Blundstones waiting for you.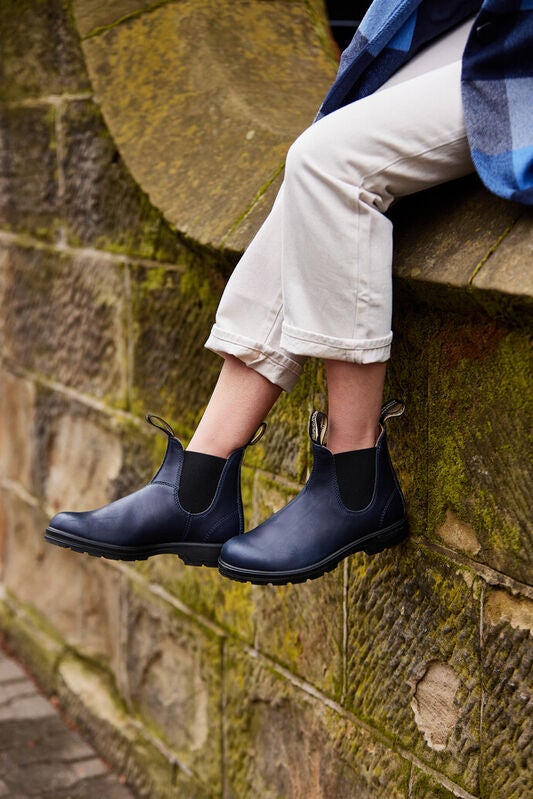 In considering your color choice, remember to:
Decide on the material and shoe style
Blundstones are made of leather with various finishes - nubuck leather, suede varieties which give you a wide choice of options to chose from.
Suede is a soft, luxurious material that will add a touch of refinement to your outfit.
Follow care instructions specific to the different material types to prolong your wear and ensure that the color of your Blundstone boots remains clean and conditioned as you prioritize the longevity of your favorite footwear.
The different categories of Blundstone boots offer variations in style:
Blundstone 500 or Blundstone 550s offer the Original chelsea boot look in smooth leather or suede and different color options of leather uppers with gold, silver, blue, black, and brown elasticated side options for a punchier look.
Dress boots offer some refinement to your utilitarian Blundstone boot look, and many of Blundstone's dress boots feature leather lining.
Chisel toe styles provide a sleeker design with a durable weather-ready outsole, and come in nubuck and leather color options.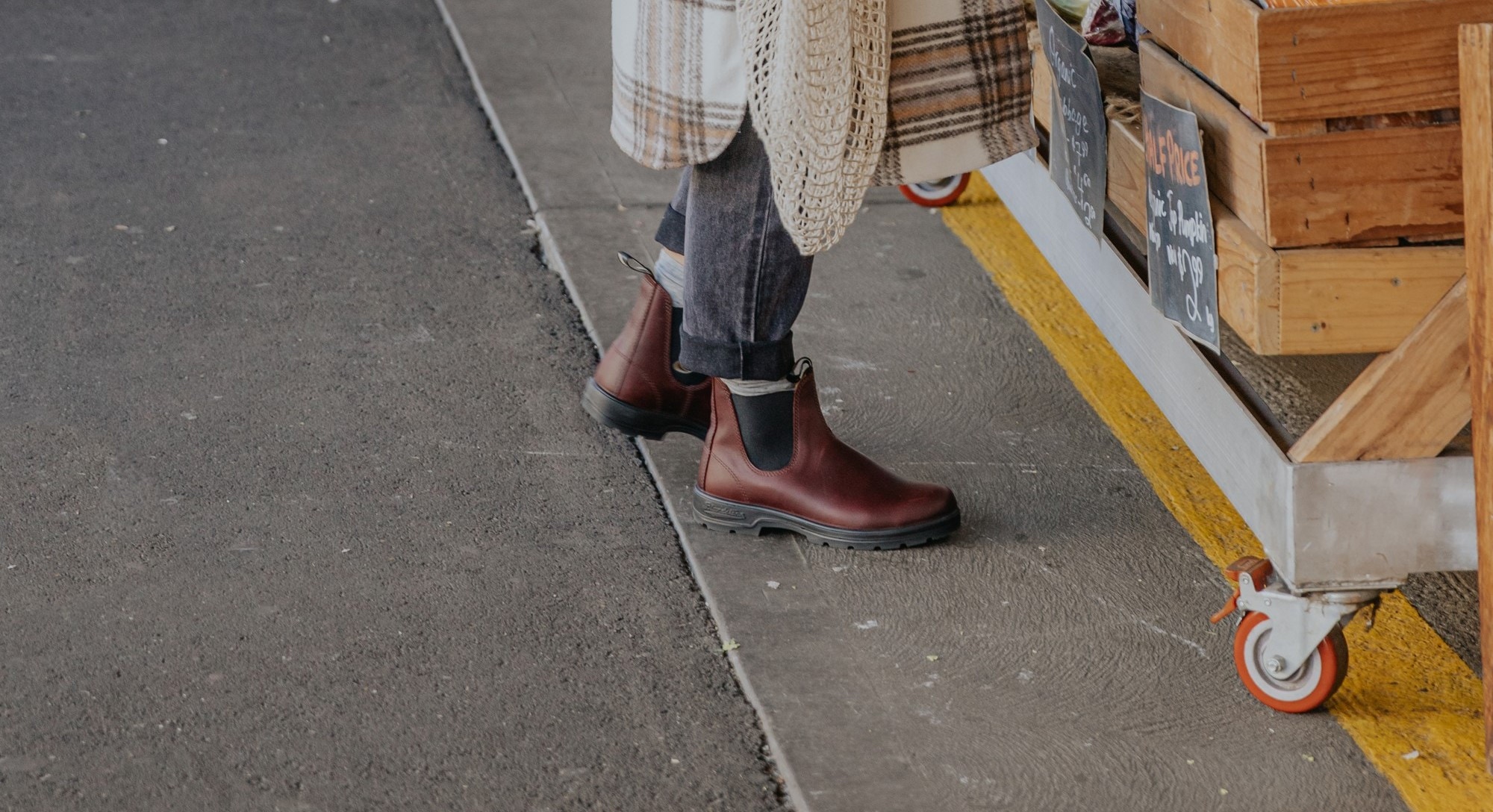 Other factors to consider when choosing your Blundstone color: Considering the season.
Blundstone boots also come in a warm and dry Thermal Series option and have a sheepskin footbed that creates a cozy, warm insole as well as a waterproof Thinsulate lining.
If you live in a cold climate, black or brown Blundstone boots will be a good color choice to insulate your feet. Choose your preferred color from the Thermal Series, which with their thinsulate lining will provide extra warmth.
If you live in a warmer climate, such as Blundstone's native Australia, exploring other color options such as tan, navy or even white may be preferable.
There is no absolute 'must-have' color chelsea boot. Ultimately, the best color Blundstone boot depends on your unique wardrobe, style, and season. Use these tips to help you choose the perfect color chelsea boot that will match your wardrobe, in an array of styles and colors that can do anything and go everywhere. The comfortable, versatile iconic design of Blundstone boots, in your color choice, can go with everything from work to wanderings, and playing to partying.