Why Are They Called Chelsea Boots?
---
Elastic ankle boots have had, as an innovative selling point, the nifty feature of not having to spend any time lacing up your shoes, but just slipping your footwear on and off. But have you ever wondered why this legendary footwear bears the same name as the Old English term meaning 'chalk landing place' or 'port of ships'; the gender-neutral nomenclature for a newborn; the London borough; the football club or the Chelsea piers in New York City? What were the origins of the Chelsea boot name and the hype behind the history of the original leather Chelsea boot design with the elasticised side feature, that makes them easy to put on and pull off?
The History of the Chelsea Boot
To understand the origin of Chelsea boots and their enduring nature, we must journey back to the Victorian era. At the height of entrepreneurial masterminding, vulcanized rubber was invented. It was during this period that a skilled London shoemaker and royal cobbler, named J. Sparkes-Hall allegedly created the prototype for what would become the Chelsea boot. In 1851, the boot maker patented his design which made the component materials more resistant and elastic, introducing a new style of ankle boot characterized by its close-fitting, slip-on design and elastic gussets. Legend has it that Sparkes-Hall's original design was a pair of Chelsea boots for Queen Victoria in 1837, specifically to prevent her laces tangling in stirrups when horseriding, after which she became a regular customer. The footwear, utilised the innovative vulcanised rubber pioneered and patented by American inventor Charles Goodyear. The elastic ankle boots he devised were marketed to the masses with the advertising copy:
"No boot ever offered such variety and play and motion to the feet and ankles... requiring neither lacing, buttoning or tying....put on and off in a moment... without trouble and loss of time"
The boots were an instant hit due to their comfort, practicality, and sleek appearance, and the boot style took off.
While the design of the boots gained popularity, the question remains: Where does the name come from? The answer lies in the affluent neighborhood of Chelsea, in London, England. In the mid-1950s, Chelsea was a hub of artistic and cultural activity, and it became associated with the mod subculture, including the fashionista Mary Quant. The subculture represented a break from traditional values, embracing consumerism, individualism, and the pursuit of pleasure. Paraded by those known as the 'Chelsea set', the Chelsea boot became synonymous with their stylish and avant-garde lifestyle and distinctive fashion choices.
It was the 1960s that marked the golden era for Chelsea boots, as the mod subculture embraced these boots wholeheartedly, elevating them to iconic status. The clean lines, low heels, and easy slip-on design, perfectly complemented the mod fashion aesthetic. For this hip generation, the perfect choice of footwear to make them look good while having fun, whether riding their mopeds or jiving to early rock and roll, was embodied by the Chelsea boot's style and freedom. The boots exuded a sense of cool sophistication that resonated with the youth and over time, artists and celebrities added their endorsement to the increasing popularity of Chelsea boots - think The Beatles, the Rolling Stone's Mick Jagger, and David Bowie. - even being dubbed 'the beatle boot' when the band popularised its wear.
In the '70s, King's Road in the chic London borough of Chelsea, saw the Chelsea boot become synonymous with the punk movement. Up to the mid 21st century bootlovers have donned versions of the classic black chelsea boot, dressed up or down, in brown suede, brogues or high patent shine versions, casual style or smart-casual - even the Stormtrooper foot soldiers in the original Star Wars movie wore white Chelsea boots!
While it was men's Chelsea boots that lead the charge, their popularity quickly transcended gender boundaries as women too embraced this versatile footwear style, recognizing its ability to effortlessly complement various outfits. The unisex appeal of Chelsea boots played a significant role in their continued success and prevalence in the fashion industry.
Over the years, both Blundstone and Chelsea boots have proven their staying power, evolving to suit the aesthetic of any era but staying true to their roots and remaining relevant in an ever-changing fashion landscape. Designers have experimented with different materials, cuban heel heights, and embellishments, while still preserving the distinctive characteristics that define a true Chelsea boot, a style staple that has been in existence for nearly 200 years now. From classic black leather iterations to bold patterns and vibrant colors, Chelsea boots have evolved to cater to diverse style preferences, from casual outfits to formal attire, while retaining a timelessness that is its minimalism and versatility.
---
Blundstone's Pull Tabs of Permanence: Chelsea to Tasmania
Blundstone is a renowned Australian footwear brand synonymous with quality and durability. While we are known for our iconic Chelsea boots, our product range is not limited to this boot style. Blundstone boot history dates back to the 19th century, Tasmania, Australia. The convergence of the British boot style and Tasmanian toughness became a reality after the company was founded by English immigrants, the Cuthbertson family, in 1870. Initially, they specialized in manufacturing sturdy work boots designed for the demanding conditions of the Australian outback.
Blundstone's connection to Chelsea boots stems from their incorporation of the classic design into their product line. Very early on, Blundstone recognized the enduring appeal and practicality of Chelsea boots and decided to integrate this enduring style into our collection, launching the Original #500 Chelsea boot in 1969.
Designed in the 1960s, the Original 500 Series epitomizes everything that is Blundstone.
The Original Chelsea Boot
There's a reason we call our beloved 500 Series "The Original." Even after 50 years, not much has changed. That's because the initial design and technology has stood the test of time, adapting to an ever-changing environment and remaining one of our most-loved.
Like all our boots, the 500 Chelsea boot was built from the ground up. Its rugged, all-rounder charm appealed to farmers, builders and workers who toiled on their feet all day.
As the decades rolled by, the all-day comfort, easy on/easy off design and timelessness of the boot has seen the 500's audience grow to adventurers, creatives and functional fashion wearers globally. The 500 has remained relatively unchanged since the '60s, a testament to the craftsmanship and longevity of the Blundstone brand.
Born out of an innovative elastic-sided Chelsea boot design, the Original 500 Series was immediately popular. With more than 25 million pairs of 500 Series sold, our original remains a cornerstone of the Blundstone range.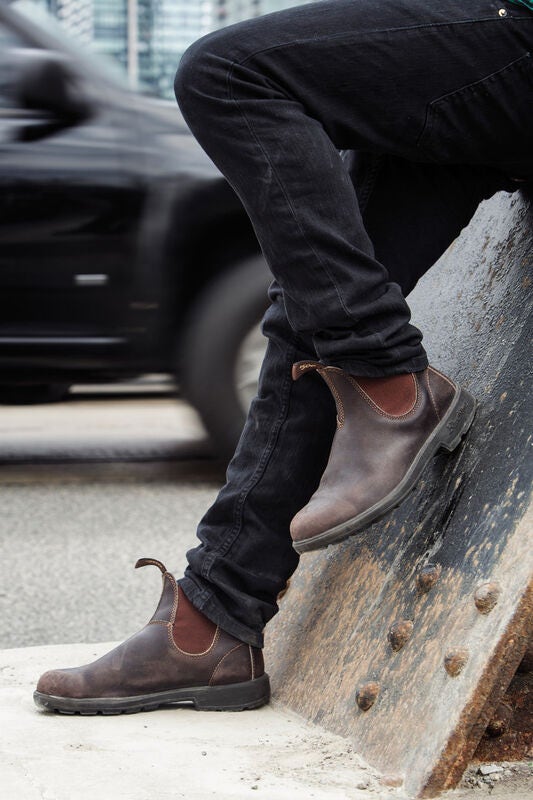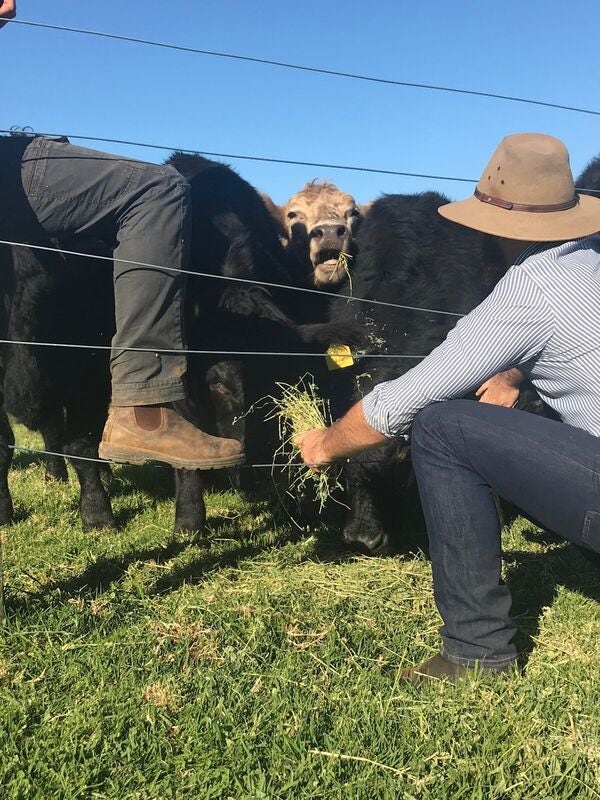 Blundstone's Commitment
Blundstone Chelsea boots have gained immense popularity due to their exceptional craftsmanship, comfort, and versatility. Our brand's commitment to using high-quality materials, such as premium leather uppers and rubber soles, coupled with the elastic side panels and iconic pull tabs, provide ease of wear and a snug fit, that are its hallmark.
What sets Blundstone apart is our dedication to creating boots built to last, that can withstand challenging environments. Variants used as work boots, such as paddock or stable boots have allowed for water resistant and comfortable shock absorption combos that have cemented it as a classic fashion item. Blundstone Chelsea boots are known for their robust construction, slip-resistant soles, and ability to handle various weather conditions. This combination of style and functionality has made them a favorite among outdoor enthusiasts, workers in demanding industries, and fashion-conscious individuals alike.
Over the years
Over the years, Blundstone has expanded its product range to offer different variations of Chelsea boots, including models with additional features like steel toe caps or thermal insulation. Despite these variations, we have stayed true to the core essence of the Chelsea boot design, incorporating its timeless elegance and ease of wear into each pair produced.
Chelsea boots are big boots to fill - but Blundstone's commitment to quality and our association with the Chelsea boot style has garnered a dedicated and loyal global following. Blundstone Chelsea boots have become a symbol of exceptional quality, durability, style and reliability, making them a trusted choice for those seeking footwear that can withstand the test of time.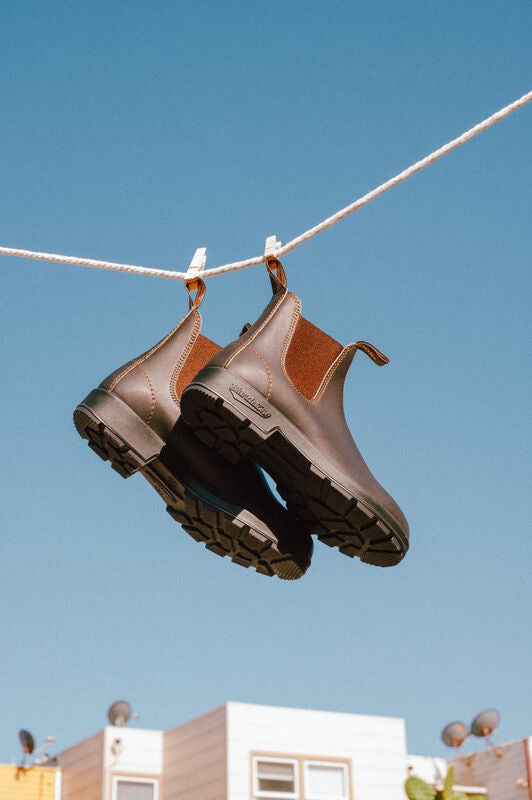 ---
Blundstone Today
Combining the timeless elegance of Chelsea boots with Blundstone's expertise in crafting sturdy footwear, has established the brand as an iconic footwear choice with widespread appeal. No-frills aesthetics and simple design, paired with their hard-wearing characteristics are testament to why Blundstone boots are beloved by so many worldwide.
---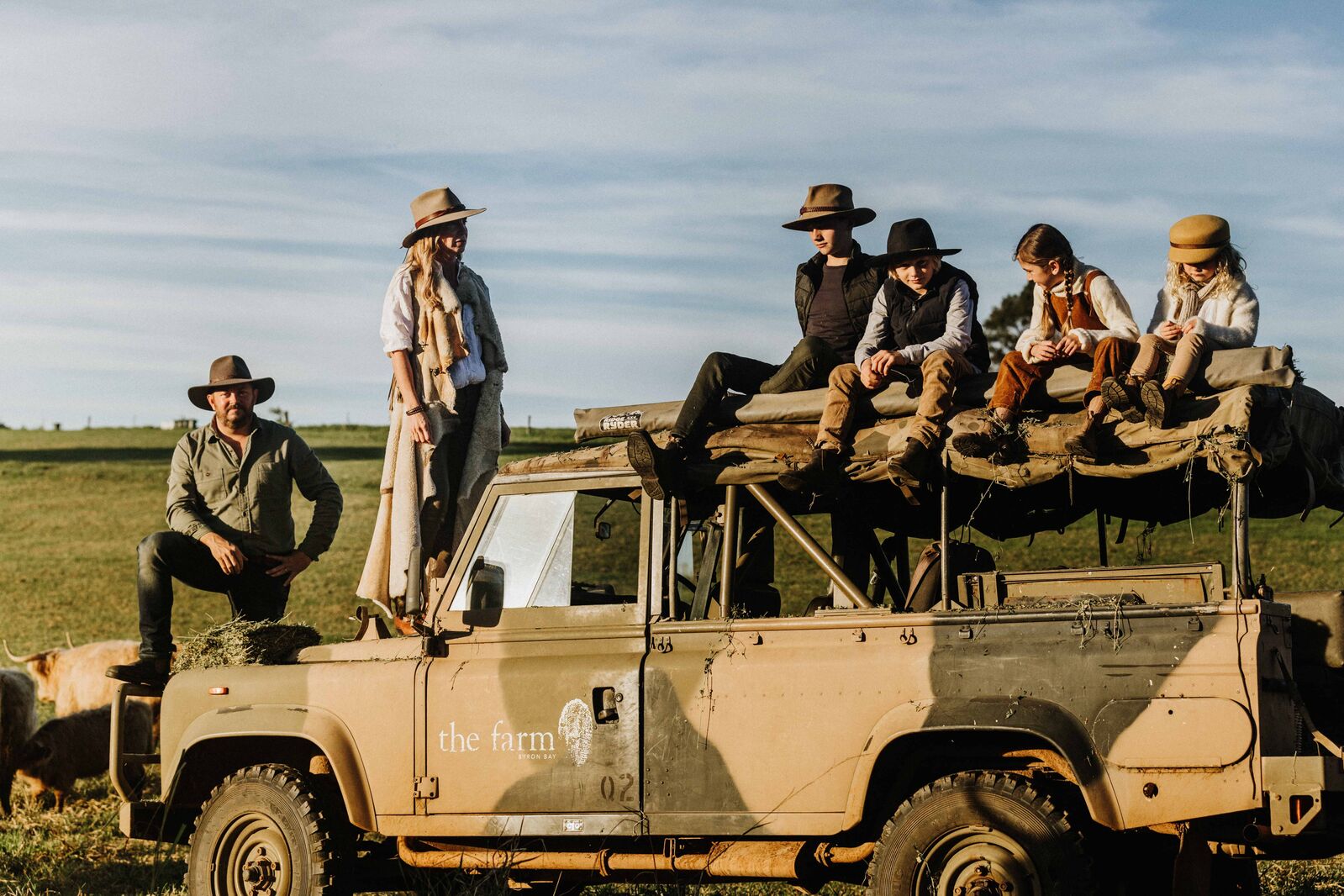 Shop for Blundstone Online