---
Why are they called Lug Boots?
The term "lug" is derived from the Old English word "hloeg," meaning "to swell" or "to bulge." Toothy rubber or synthetic material indentations are made of rubber and patterned on the outsole to provide a solid footing for the wearer. The depth and spacing of the lugs varies depending on the intended use of the boot. The thick, deeply grooved outsole of the lug sole boot provides excellent traction on wet, slippery, or uneven surfaces. They can be found on a range of boots- work to station boots, winter to riding boots, hiking and rain boots to combat boots and Chelsea boots to knee-high boots.
Types of lug sole boots include:
Work boots: Informing the overall boot trend of lug-sole boots, these are designed to endure the wear-and-tear in demanding environments, like farms or construction sites. They typically provide excellent traction on wet, slippery, or uneven surfaces.
Lug-sole Chelsea boots: These offer a versatile dial-up of the classic leather pull-on Chelsea boot silhouette with the addition of chunky lug soles, which give the wearer some lift while remaining durable and lightweight.
Lug-sole winter boots are available in both Chelsea boot and lace-up varieties. Lug Chelsea boots with a rubber sole combine the durability and slip resistance of a chunky boot with pull-on ease. Lace up lug sole boots offer the additional benefit of lace up support and custom fit.
Hiking boots: Designed for long-distance hiking in a variety of terrains, hiking boots typically have lug soles and laces, to provide improved grip and ankle support for backpacking trails and mountaineering pursuits.
Rain boots: Waterproof, rubber rain boots are designed to keep your feet dry in wet weather and trans-seasonal styling. They typically have chunky soles, with either ankle or mid-calf uppers.
Lug-sole combat boots are a water-resistant leather boot with a round toe, cushioned for comfort, and crafted with an edgy and sophisticated, Chelsea boot style.
Don't be put off by the outsized appearance when thinking about wearing lug sole boots. The lug sole boot sports a slight heel elevation which creates a gap between the midsole and the ground, maximizing traction and stability. The distinct, deeply grooved outsole design of lug boots adds an element of practicality and function and is super versatile to wear.
Coupled with the reliable traction for all-day wear, Blundstone lug sole boots have elastic panels on both sides of the ankle to enhance their comfort. Inspired by the brand heritage of work boots, the chunky heel provides cushioning and a comfy lift and is also highly functional and versatile. Street style sees hardworking lug sole boots worn easily with everything from jeans-and-blazer pairings to daintier mini skirts.
Rugged and chunky in appearance, lug sole boots have gained a popular following as a bold fashion statement that has utilitarian function. A go-to off-duty style favorite among New York fashion models who sport Prada or Proenza Schouler chunky Chelsea boots, Russel leather knee-high boots, colorful Ganni ankle boots from catwalks to sidewalks, they deliver a bold, standout statement. In the outdoor world, Lug sole boots have become a staple for walkers, hikers, and aprés skiers, appreciated for their function and durability. From a mountaineering legacy, lug sole boots have stamped their footprint into fashion forays, making their way into all of the best shopping guides.
Knowing how to wear the boot with an exaggerated rubber sole means appreciating outsized proportions and practicality. Cold weather outfits get a punchier look and you can be assured that you won't have to change your outfit for the weather forecast as most lug sole boots are water-resistant and weatherproof.
---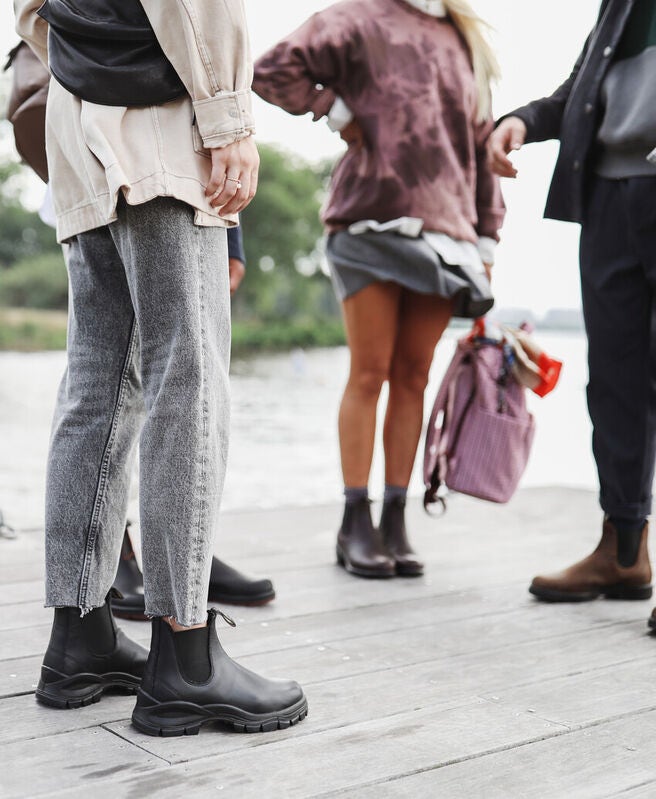 Here are some of the benefits of lug soles:
Excellent traction: Lug soles help to maximize traction and grip, making them ideal for varied outdoor pursuits and in wet or snowy conditions, enhance stability and safety. The wider footprint in the chunky outsole of the Blundstone Lug Boot for example, helps provide more stability.
Durability: Lug soles are designed to be durable and are good at withstanding scuffing and abrasions in demanding environments. They are much more likely to get through an average season than your regular sneaker.
Slip resistance: Lug sole boots with deep grooves, such as Blundstone Lug Boots are designed specifically to increase slip-resistance in varied environments.
Comfort: The added heel height and rubber outsole also provide added shock absorption even more so when combined with a cushioned insole.
Shock absorption: The cushioning effect of the deep treads absorb shock and impact while walking or running, helping to reduce strain in the feet and joints.
Water resistance: Trudging through puddles becomes a breeze with the added height of a Chelsea boot that has a lug outsole such as Blundstone. You don't have to worry about water splashing over the elastic into the boot like you would with a classic chelsea bootie.
Debris resistance: The depth of the lugs on the outsole creates channels that help disperse water, mud, and debris. This improves traction in rough terrain and works well in navigating wintry mixes.
Versatility: Lug soles are a versatile boot trend that can be an addition to various types of footwear, including ankle booties, Chelsea boots, sneakers, and hiking boots.
In summary, lug sole Chelsea boots are a solid investment given their statement looks and utilitarian function. They are also a more practical everyday alternative to platform boots or combat boots, and a far less dainty alternate to booties or little black ankle boots. And you don't need to splurge on Gucci, Prada or Proenza Schouler to find stylish options that fit the bill for a lug sole Chelsea boot, Blundstone has a standout collection of lug sole boots that could be said to be the definition of understated styling, versatility, and function.
Recognized for their iconic Chelsea boots, Blundstone launched its Original #500 Chelsea boot back in 1968. As Gear Patrol magazine noted in their article on Blundstone in October 2022, "It combined the comfortability of a Chelsea with the durability of an Australian bush boot, a laceless style that deters snags on spiky bushes (hence the name) and doesn't slip on rocky terrain. It's comfortable, casual and beloved by many."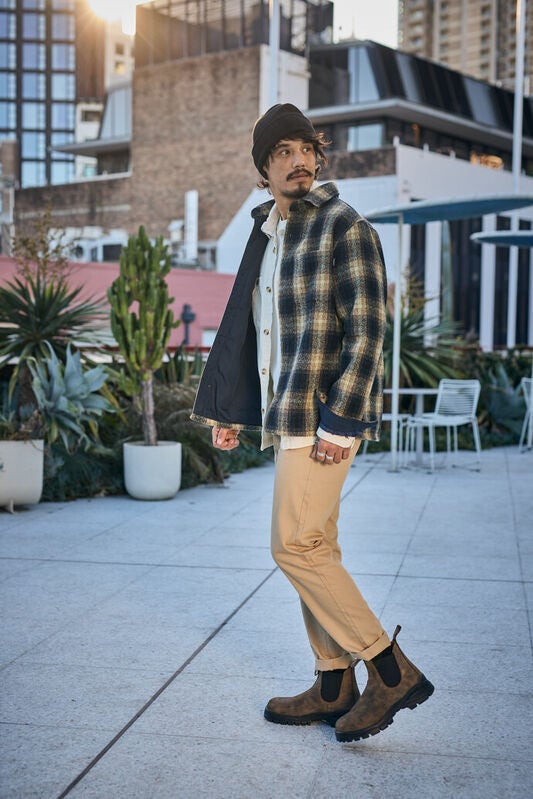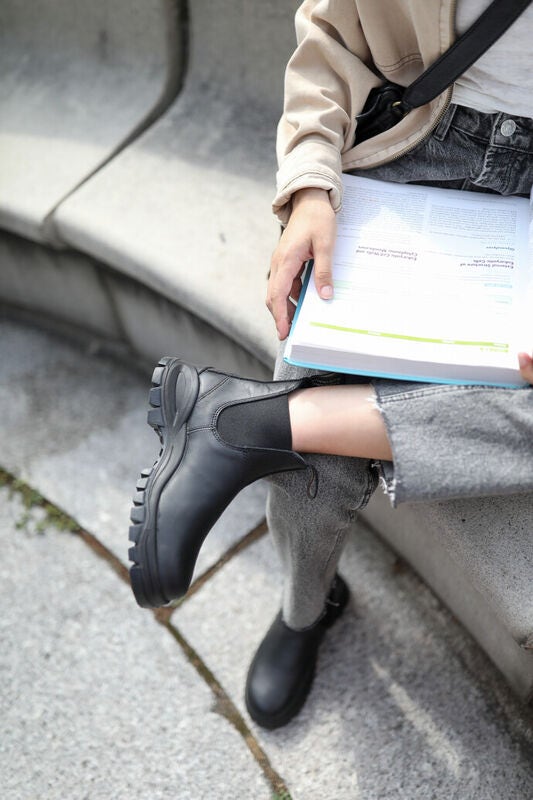 A fresh take on the brand's iconic and best seller Original Chelsea boot, the Blundstone Lug Boot borrows features from its work boot line such as the Comfort Arch footbed with XRD® Technology and its chunky rubber sole that has been tried and tested in its work range. It comes with premium water-resistant leather uppers and the pull on ease of signature pull tabs. Colors such as black and brown make styling both easy and enjoyable.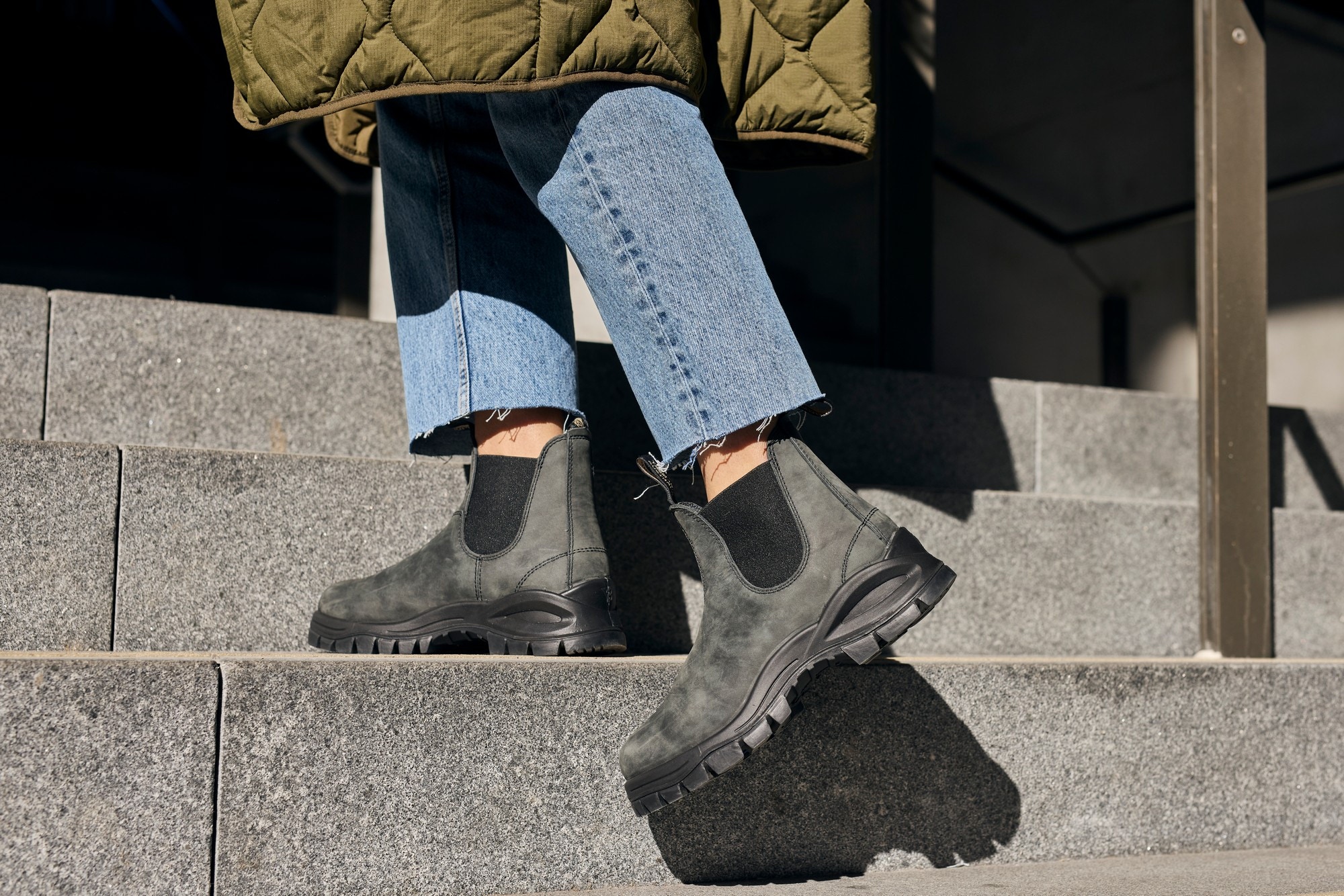 Boot trend or not, the Blundstone Lug Boot is sure to be as relevant in three years as it is today. Timeless, highly functional, and beloved for its comfort and durability. For a dress boot version, consider Blundstone's Chelsea boots that fit your wardrobe style.
Find out more on how to style your Blundstone lug boots.