---
Are Chelsea Boots Considered "Business Casual"?
Boots do not typically spring to mind when thinking about business casual dress, but the business world has seen a slow influx of harder working clothing and streetwear in men's and women's fashion that adds an edgy yet functional, casual look to this traditionally formal dress code.
Business casual outfits, paired with boots, can be both refined and comfortable, balancing function with styling versatility. We are not prescribing that your boots should replace formal work shoes, dress shoes, oxfords, monk strap shoes, or loafers, but spicing up your business casual outfits with the right type of boot, can have a huge impact on the overall appearance of any outfit.
So, when you're aiming for a specific dress code, carefully considered footwear is essential. For business casual attire, that means picking a pair of shoes that appear both stylishly relaxed and suitably corporate.
'Boots' is a broad category, and the right style can be a great way to let your personality through while keeping your look professional and presentable. Several available styles can vary your aesthetic and polish your everyday business casual outfits.
Add a pair of each of these business casual shoes to your work wardrobe, and you'll never be over or underdressed again:
---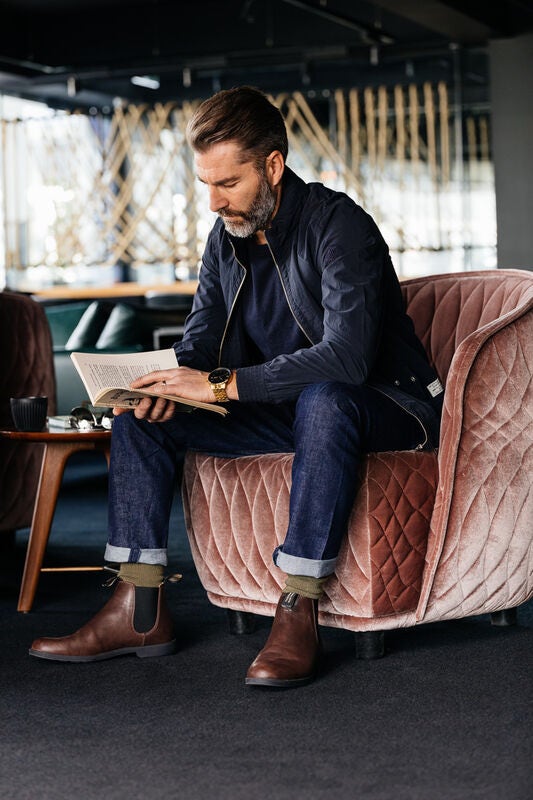 These slim silhouette, elastic side panel and heel pull-tabs are an excellent option to slip on and off easily. This design classic, low-profile shape Chelsea boot will see you 'suited and booted' with style. Black leather, such as the Blundstone #510 is a timeless choice that goes with everything from classic navy and grey tailoring to camel or beige.
Whether for more formal, or for smart casual dress-down Friday, this tweak to your business outfit is both versatile and relaxed.
Business Casual Styles
Some business casual styles for Chelsea boots include pairing this stylish and versatile addition to your wardrobe:
With a suit: Chelsea boots can be dressed up to complement a suit. Choose a pair of black or brown Chelsea boots in a smooth leather or suede. Pair them with a tailored suit, a dress shirt, and a tie. We suggest the Womens & Mens Dress Boot #063, Ankle Boots in Chestnut Brown #1900 or Heritage Boot #152 in Black
With chinos: Chelsea boots can also be dressed down and worn with smart casual chinos a sweater, blazer or cardigan. Choose a pair of Chelsea boots in a lighter color, like tan or brown. Recommendations include our Dress boot in Stout Brown #062 or in Rustic Brown #1306
With a skirt or dress: Neutral color Chelsea boots work well with a skirt or dress for an easy daytime look. Skirt and sweater combinations, layered with a blazer or jacket is also appropriate workwear. This would work well with our Women's Heeled boot #1673 in Antique Brown or the #1671 in Black.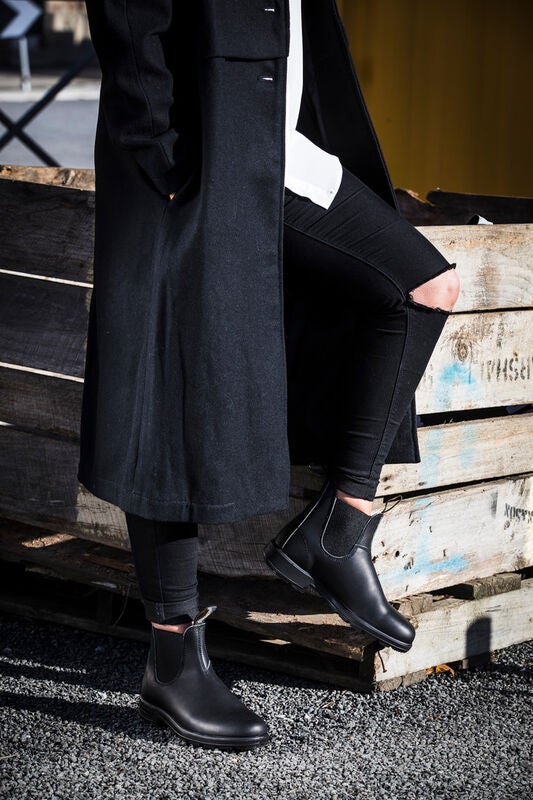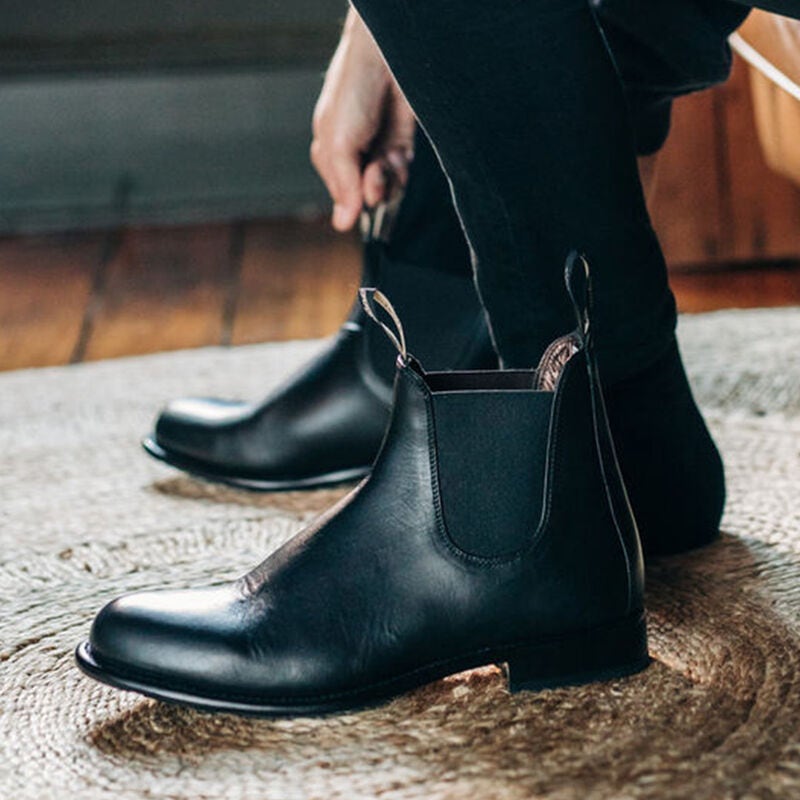 Remember that for your Chelsea boots to deliver the best look
Choose a pair of boots that fit well. Chelsea boots should provide a snug fit that is not constricting.
Pair Chelsea boots with clean, pressed clothes to create a polished and professional look.
Accessorizing your business casual outfit with a scarf, hat, or jewelry can help to add individuality to your outfit.
No matter how you choose to wear them, Chelsea boots are a stylish, versatile addition to your business casual wardrobe.
---
Other popular types of Business Casual Boots include:
Oxford boots
Oxfords are traditionally formal business shoes. Oxford boots combine the classic detailing of the plain toe and lace-up design of the standard Oxford shoe coupled with the protection of a boot to perfect a smart casual look. Oxfords that bear details such as wingtips or broguing reduce the overall formality, and make an Oxford boot more appropriate for a smartly relaxed business casual setting.
Chukka boots
Ankle-length chukka boots are a style of boot with two or three eyelets and thin laces. They are often a brown leather or suede and pair well for casual wear with fitted jeans and t-shirt, and an optional third layer, like a jacket, to elevate the look. For smarter and business-appropriate outfits, that are more sophisticated than rugged, opt for darker full-grain leather and sleeker cap toe chukka boots.
Desert boots
These are a category of chukka boot that are a staple style which is both functional and fashionable men's business footwear. Pair these comfortable, ankle-length options for the office, with slim chinos and a neutral button-up shirt for a sleek look. If you are going for a more formal appearance, try teaming your desert boots with a relaxed suit and laid back styling with a neutral hue or white oxford shirt.
Dress boots
Dress boots always fit well with casual business attire. They traditionally come in black, brown, and tan but try a plain toe muted shade when styling them with a slick pair of chinos or trousers. Modern alternatives to the trusty regular work shoes will expand your wardrobe rotation. With so many varieties on offer, you shouldn't struggle to find a pair to suit your style and dress code needs.
---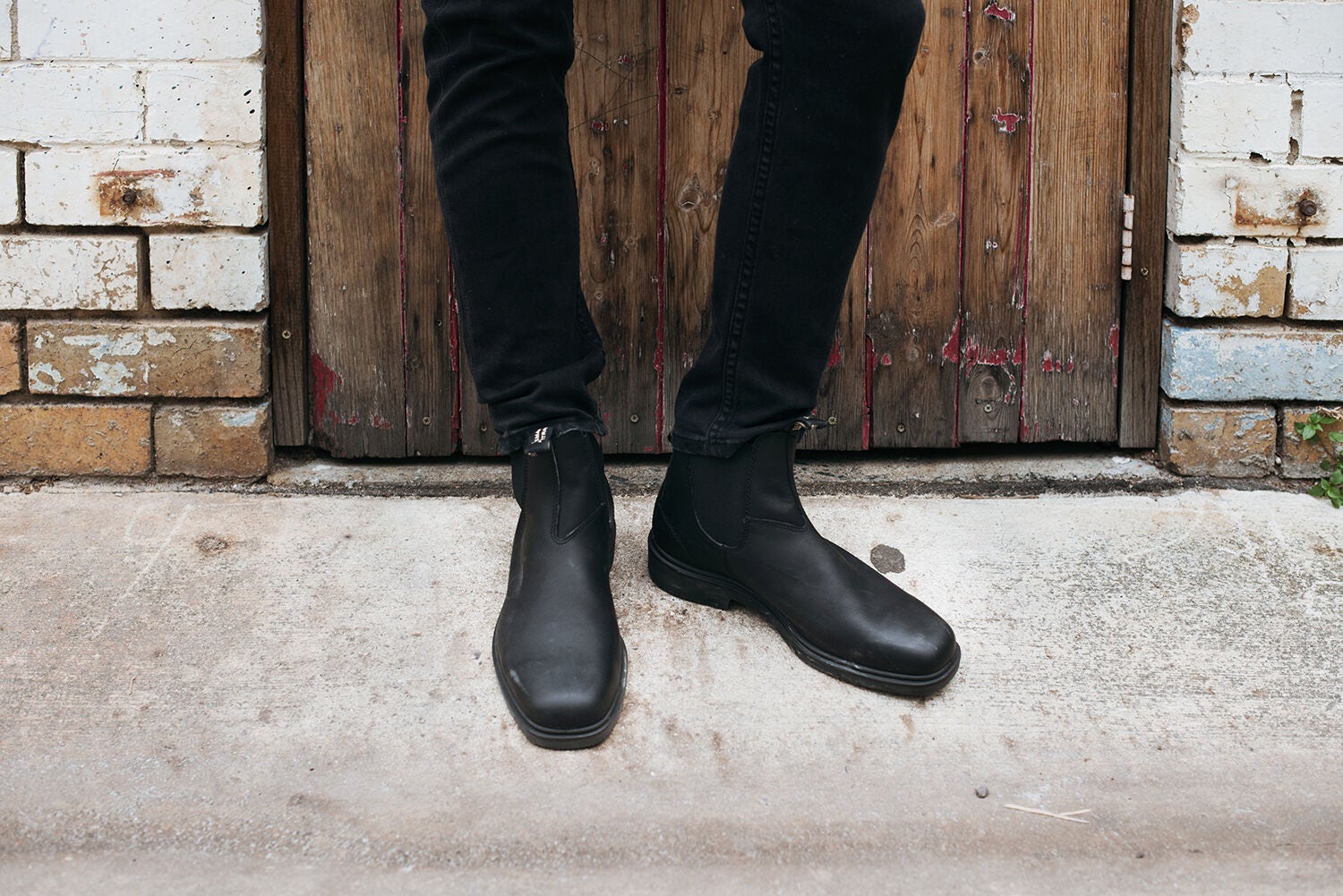 Keep these tips in mind when choosing the right kind of boot for business casual wear:
Choose boots that are made of leather or suede. These materials are more formal than other materials, such as canvas or rubber.

Choose boots with a simple design. Avoid boots with too much stitching or embellishments.

Choose boots with a closed toe. Open-toed boots are not considered business casual.

Choose boots with a heel that is no more than 2 inches high. Higher heels are more formal and may not be appropriate for a business casual setting.
Ultimately, the best way to determine if boots are appropriate for your business casual setting, is to check with your employer or supervisor for specifics about the dress code at your workplace.