Blundstone Classic vs Original
---
Blundstone has supplied every description of men's, women's, and kid's boots designed to be lived and worked in. You will find Blundstone boots on the feet of workers, creators, musicians, and adventurers alike. They are beloved for their legendary comfort, durability, and versatility. Blundstone holds itself to the highest standards. The brand prides itself on the quality of materials and the skills required to craft their boots. Tough, durable, and comfortable boots that are built to last.
Blundstone boots have a reputation for quality
Everything from sole technology to stitching, laces, leather, and linings are carefully considered and tested to ensure the product will stand the test of time. From hand-picked leather to over-engineered double stitching, it ensures Blundstone products are not only delightful to wear, but are robust and fit for purpose. As an established staple in the footwear industry, Blundstone Chelsea boots are known for the unique combination of form and function. Stylish and comfortable, they are designed to go wherever life takes you.
Birth of an Icon: "The Original"
There's a reason the beloved 500 Series is called "The Original." Designed in the 1960s, the Original 500 Series epitomizes everything that is Blundstone. Even after 50 years, not much has changed. That's because the initial design and technology has stood the test of time, adapting to an ever-changing environment and remaining one of the most-loved. Born out of an innovative elastic-sided Chelsea boot design, the Original #500 Series was immediately popular.
Like all Blundstone boots, the Original #500 Chelsea boot was built from the ground up. Its rugged, all-rounder charm appealed to farmers, builders, and workers who toiled on their feet all day. As the decades rolled by, the all-day comfort, easy on/easy off design and timelessness of the boot has seen the #500's audience grow to adventurers, creatives and functional fashion wearers globally. With clean lines and attention to comfort features, the Blundstone #500 boots were made for walking.
---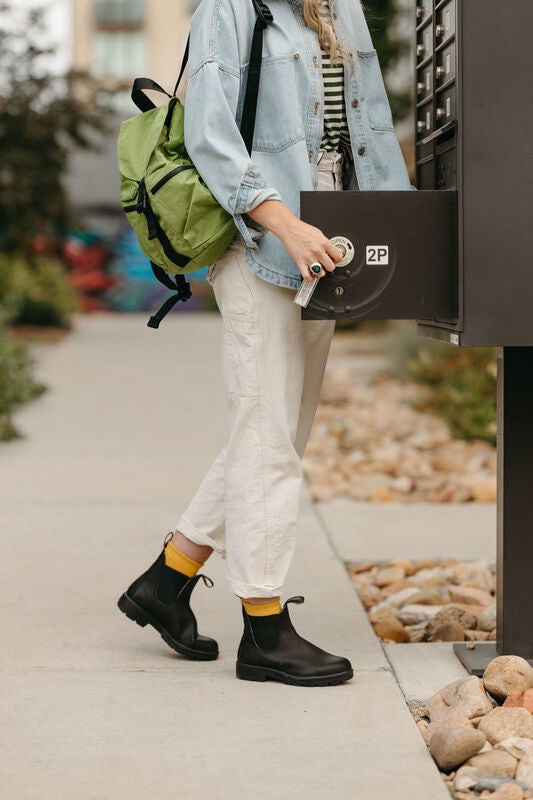 Originals Series
A nod to the craftmanship and longevity of the brand, the Originals have all-around appeal. The Originals Series is designed from the sole up and has expanded from its start point as a Chelsea boot. The collection of Chelsea, High Top, Suede, Lace Up boots, and Shoes is a testament to the tradition and spirit of the Blundstone craft, showcasing premium leathers, suedes, and vegan options in a variety of colors and finishes.
Classics Series
The Classics Series of Chelsea boots took inspiration from the Originals. The Classics Series features some of the most popular styles of Blundstone boots, such as the beloved #585. The evolution of the iconic #500 boot, a Classic Chelsea boot is everything you love about the Original Chelsea boot, turned up to max. More bells and whistles. All the durability. More comfort. More shock absorption. These are likely the most comfortable boots you will ever own.
So for example, what's an Original #500 Chelsea boot vs a Classic #585 Chelsea boot?
Our Originals and Classics Series (also known as the #500 and #550) are home to some of our most popular styles—like our iconic Blundstone #500 and our best-selling Blundstone #585. You may want to know what distinguishes the Blundstone Classic Chelsea boot from the Original Chelsea boot counterpart. The Chelsea boots may have a similar silhouette, however their features are quite different. While the Classics retains the same Chelsea boot design, they feature a few notable upgrades. Exploring the differences will help you make an informed choice about which Chelsea boot suits you best.
What features do an Original #500 Chelsea Boot and a Classic #550 Chelsea boots share?
High quality water-resistant leather

Iconic pull tabs for slip-on and slip-off ease (no laces needed)

SPS Max Comfort system for outstanding shock absorption

XRD in the heel strike for shock absorption

Cushioned footbeds Slip-resistant, durable TPU outsole

Polyurethane (PU) midsoles

Both have a steel shank that provides additional support and stability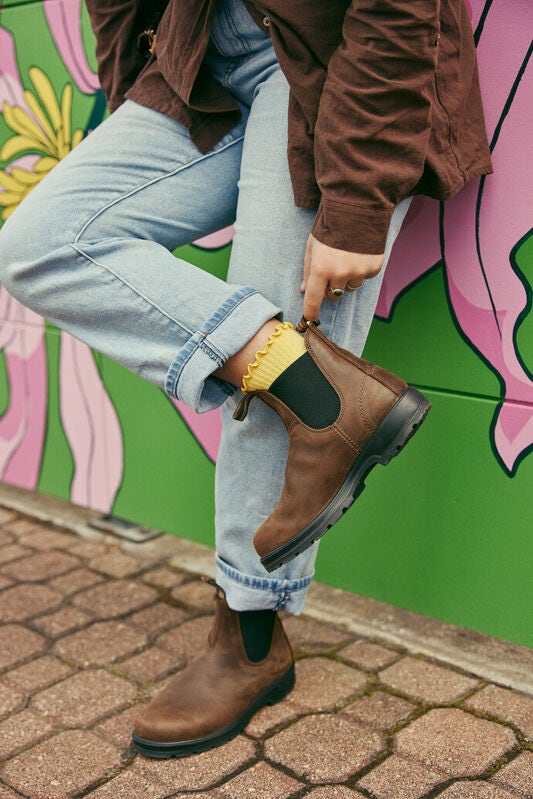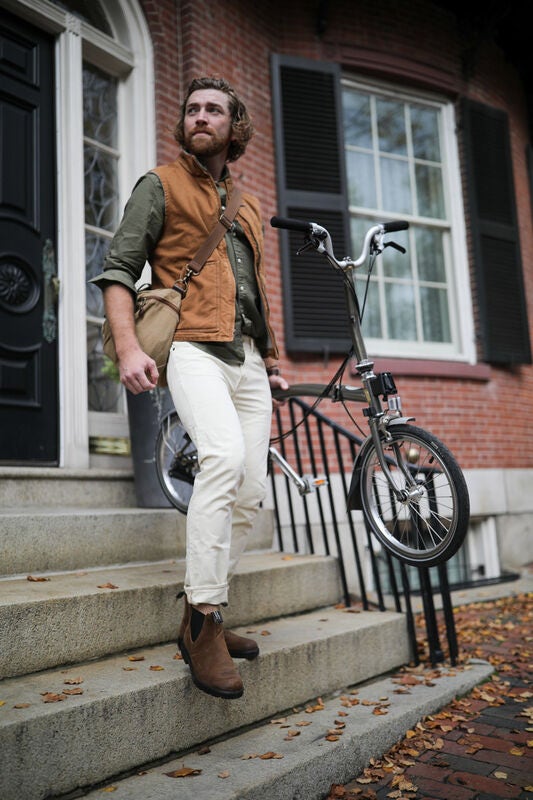 Here are the key features that make the boots different
An Original #500 Chelsea boot has:
Unlined 2.5mm premium breathable leather upper

Smooth leather, lined suede, or oily suede options

Durable TPU outsole
A Classic #550 Chelsea boot has:
Soft, supple 1.8 mm premium leather upper

Leather-lined smooth leather or Nubuck options

A more cushioned outsole than the Original Series.

Extra comfy footbed that provides more shock absorption

An extra set of footbeds for a custom fit
How does a Blundstone Original or Classic Chelsea boot fit differently?
Blundstone Original Chelsea boot:
The Original Series is lined with either cotton or cambrelle, which allows the leather to breathe more. We do, however, use a thick 2.5mm premium leather on these boots for durability. Given these boots are not as wide as the Classics Series, they can provide a more snug fit with a firmer fit across the top of the boot and the toe area. Overall they have a longer wear-in period. Over time, the thicker leather will soften and the boot will mold nicely to your foot.
Blundstone Classic Chelsea boot:
A more worn-in feel from the very first wear and will take less time to mold to your foot. A more supple leather with leather lining for comfort means these boots will have a more relaxed fit from the get-go. Our Classics Series has a wider fit compared to our Originals Series so they're great for those who need a little extra room. Our Classics Series also features a leather lining for warmth and additional cushioning in the footbed for added softness.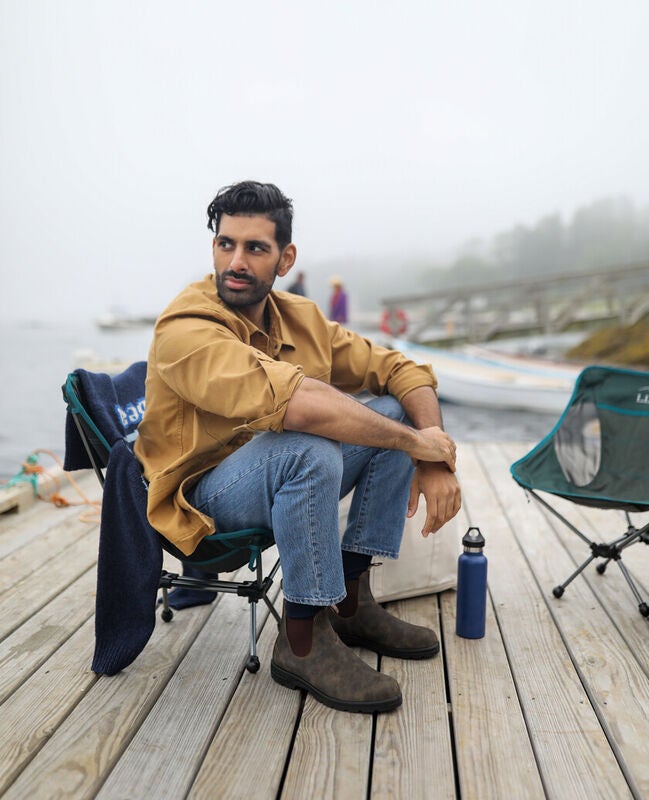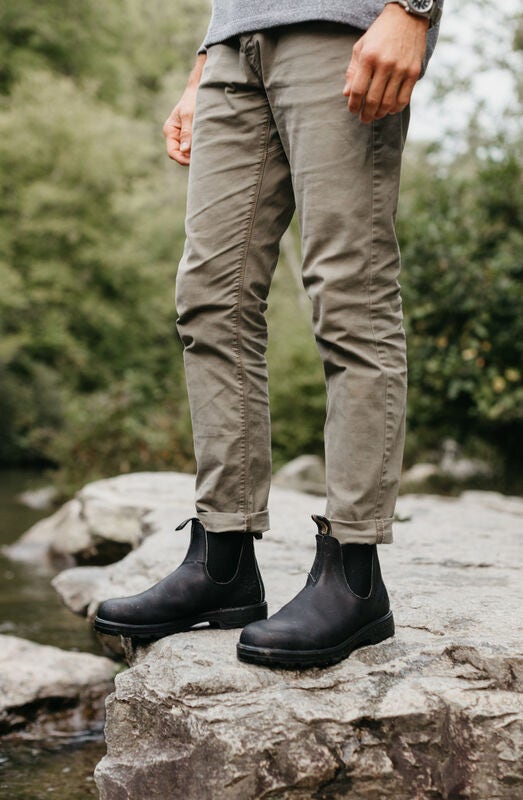 What to think about before choosing your boot:
Your lifestyle:
The great thing about Chelsea boots is they're so versatile. Blundstone Chelsea boots in particular are as comfortable in the bar as they are in the barn. Established back in the day as a work boot, you'll find them on the feet of artists, workers or equestrians alike. The great thing about the Original #500 Chelsea boot or the Classic #585 Chelsea boot is that you can put these pull-on boots through pretty much anything and they will look great every step of the way. Think of your Blundstone Chelsea boot as the ideal combination - the out-on-the town boot, the barn boot, work boot, rain boot or muck boot.
Your climate:
What's good about the Original #500 Chelsea boot for example, is that it's made from one piece of leather and is unlined so it's breathable. Hence its historic appeal among Australian farmers and workers. The premium quality leather and the 2.5mm thickness also makes for a good protection layer in colder or wet weather and the TPU outsole helps to provide some slip resistance when the weather turns and you need more of a winter boot.
Your budget:
Consider buying things that have staying power and a sense of purpose. Blundstone Chelsea boots are appreciated the world over for their quality construction and durability. Built to last, you can be assured of a quality product that is a worthwhile investment. Whatever your personal style and footwear needs, you can be sure that Blundstone has the perfect pair for you.
Occasion:
The thing about Chelsea boots is that they fit the bill so well - whether it be for long days walking around the city or trudging through mud on weekend at a festival. And from an outfitting standpoint, they are likely most versatile boot you can buy, combining he iconic design of a Chelsea boot with the ruggedness or a work boot. As a walking boot or a work boot, come rain or shine, the Original #500 Chelsea boot or the Classic #585 or #550 Chelsea boot will become your most favored companion. And if you are on your feet all day and comfortable boots are important, Blundstone boots will not disappoint.
Color:
If brown boots are what you love, then Blundstone Chelsea boots have multiple boots you will appreciate. Available in multiple shades of brown such as Original #500 Chelsea Boot in Stout Brown, the Classic #1609 Chelsea boot in Antique Brown, the Classic #550 Chelsea boot in Walnut Brown or the bestselling Classic #585 Chelsea boot in signature Rustic Brown. Some vote for Walnut brown or Antique brown - both can be dressed up and worn to work. Others prefer the Rustic brown as aging beautifully, lots of character, but being perhaps a touch more casual . If its black Chelsea boots are what you are after, then consider the Original #510 Chelsea boot or the Classic #558 Chelsea boot. Think versatility for those days when you are wearing darker colors.