How To Wear Chelsea Boots With Jeans
Blundstone is synonymous with Chelsea boots, having launched the iconic Original #500 Chelsea boot style back in 1969. Over one hundred years of boot making expertise led to the birth of this iconic Chelsea boot that still sits at the heart of the Blundstone range. No fuss. No bells and whistles, just good looks, simple lines, underfoot comfort and our signature stout brown tough leather, all coming together.
Chelsea boots are known for their elastic side panel, allowing for easy wearing and a comfortable fit. Blundstone boots feature this distinctive element, along with their signature pull-tabs for an that make taking the boots on and off a breeze. While originally made of leather, Chelsea boots now come in various materials such as; Nubuck, vegan, suede, waxed suede.
Blundstone's are beloved by everyone from workers and farmers to artists, musicians and creators alike. Renowned for their versatility and timelessness, our Chelsea boots effortlessly complement a wide range of outfits.
---
Whether you opt for a more down-to-earth casual look or refined outfit, these boots adapt seamlessly for a look that's customized to your personal style. Dress them up or dress them down, Chelsea boots are about as versatile as you can get.
---
Blundstone Boots recently gained attention in a recent NY Post article "Why Kate Middleton can't resist her favorite Blundstone boots adored by celebrities." The article highlights the enduring design of the Classic #550 Chelsea Boot, known for its durability, water-resistant leather, and cushioned midsole. It also mentions the widespread popularity of Blundstone boots among celebrities, including; Kate Moss, Lily Collins, Emma Watson, and Daisy Edgar-Jones who are said to favor various shades and styles such as the Blundstone Original Black/Rainbow #2105 Boot, Blundstone Classic Rustic Brown #585, and the Blundstone Rustic Black Lug #2238 Boots.
One of the most popular ways to style Chelsea boots is with jeans. This is a classic look that will take you from the woods to dinner, or the office to the bar, depending on how you style them. Here are a few ways to rock this combination: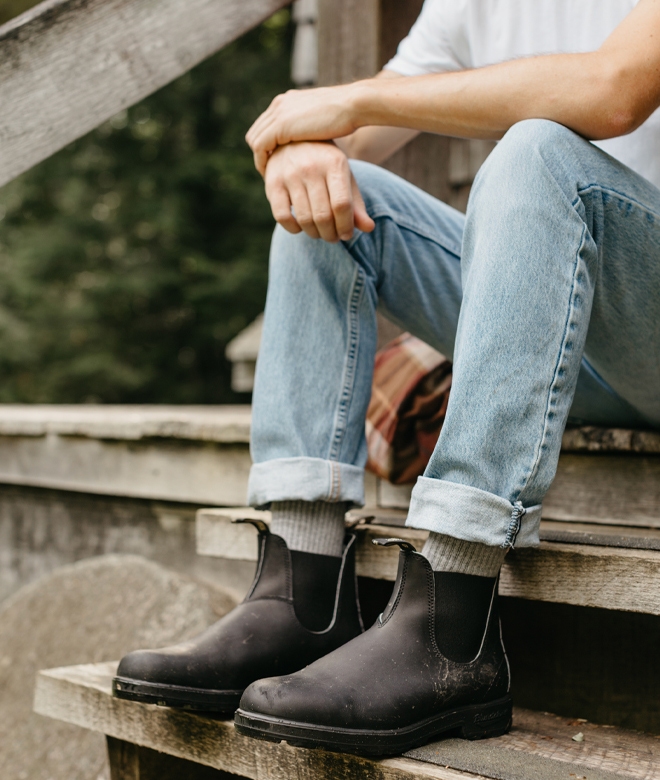 Casual look
For a more casual look, couple your Chelsea boots with a pair of distressed or faded jeans. Rolling up the cuffs of your jeans slightly will showcase the boots, Blundstone's iconic pull tabs and further tailor the look to everyday wear or casual outings. T-shirts and hoodies are excellent additions to this comfortable and casual pairing. Blundstone's Original Stout Brown #500 or Black #510 would be ideal companions to this kind of casual look.
Slightly more polished
Alternatively, a dark-wash pair of straight-leg jeans or black jeans make for a more put together, polished look. Jeans that are slim or tapered fits worn at midi length will also create a sleeker silhouette. This combination works well for all-day sessions in the office followed by a night out. You can also add a scarf or statement necklace to complete the look. Blundstone's Classic Black #558 or Antique Brown #1609 would be ideal complements, or for a touch more formality try-on with the Blundstone Dress Series such as the Black #063 or the Stout Brown #062.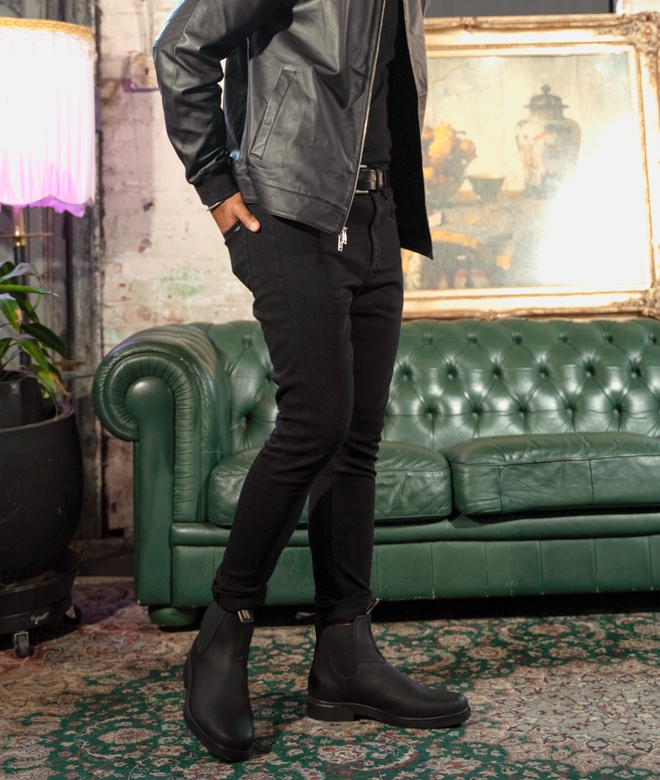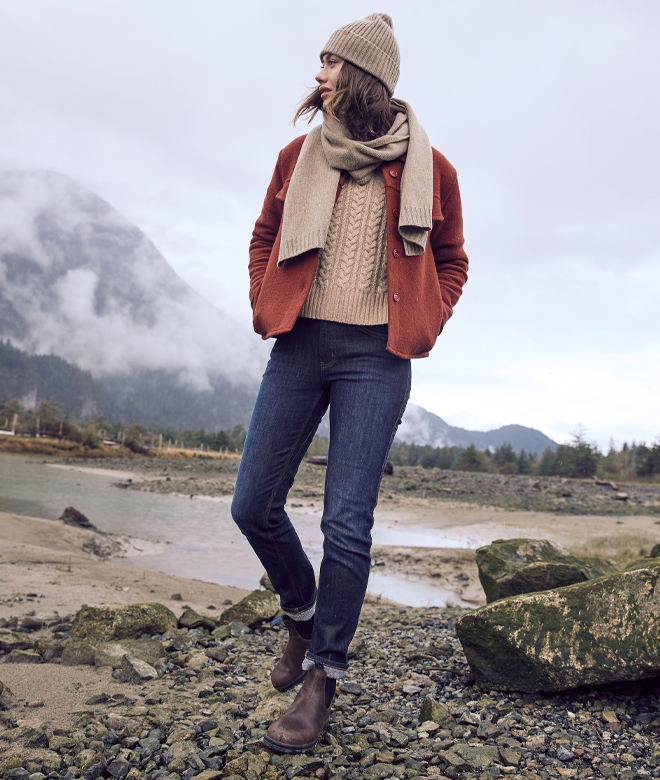 Dressing up
You can further notch up your Chelsea boot and jeans combo by adding a blazer, tailored casual jacket or a moto jacket. Adding a well-fitted jacket makes for a smart casual outfit yet laid-back look. You can also layer with a shirt, sweater, or a casual button-down for added style. Try out the Blundstone's Ankle Boots in Chestnut Brown #1900 or Black #1901 for an added touch of refinement.
A Boot for All Seasons
You can also change up our Chelsea boots and jeans outfit based on the season. Blundstone was featured in NYMag's top winter boot lists for men and women. The Blundstone Original Black #510 Chelsea Boot was chosen as the best overall winter boot, known for their water-resistant leather and versatile performance.p
In winter and during colder months, opt for the classic heavier weight denim. For a winter look, pair your Chelsea boots with a pair of dark-wash jeans, a turtleneck, and a peacoat. In warmer weather, opting for lighter-weight jeans and T-shirts or a light sweaters is always an option. For a summer look, pair your Chelsea boots with a pair of light-wash jeans, a tank top, and a denim jacket.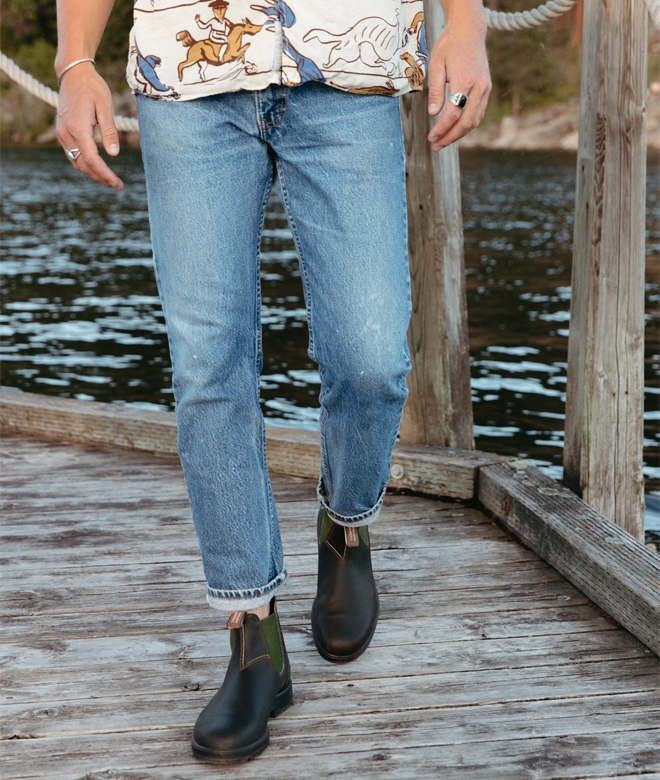 ---
The Pros of Chelsea Boots and Jeans?
Looking for a versatile, comfortable, stylish, and durable boot, to pair with your Levis? Then a pair of Chelsea boots such as Blundstone's are the ideal choice
There are numerous benefits to wearing Chelsea boots with jeans which make this combination such a popular styling choice.
Versatile: Chelsea boots bridge the gap between casual and formal wear, by complementing a wide range of outfit options. Chelsea boots provide a stylish complement to jeans, enhancing their overall appearance. With a few outfit tweaks, they can seamlessly transform a laid-back daytime look to a more refined evening ensemble.

Comfort: Crafted from high-quality materials, Chelsea boots prioritize both style and comfort. They often feature cushioned insoles, supportive construction, and a snug fit, ensuring a comfortable experience even during extended wear. The iconic Blundstone pull tabs add to any outfit as well as make the boots easy to slip on and off.

Stylish: Blundstone's Chelsea boots have stood the test of time as a classic footwear choice. The iconic clean lines and sleek profile speak to the timeless design of the boots.

Durable: Our Chelsea boots are made from only premium quality leathers and materials with quality construction. They are also water-resistant, making them a great choice for all-weather conditions
The benefits of pairing Chelsea boots and jeans also extend to a variety of jean styles. It's no wonder this combination remains a classic styling choice and go-to option for Blundstone lovers everywhere.
Find your Style
Explore styling that works for you by experimenting with different leg shapes, fits or washes of denim. Remarkably, it's the versatility of Chelsea boots that make it easy to create outfits that reflect your individual style.
Taking that into consideration, here are some general style tips on how to wear Chelsea boots with jeans:
Your fit:

Choose jeans that fit well. Your jeans should not be too baggy or too tight. Choose styles that flatter your body shape. You will find the iconic boot profile of a Blundstone boot will complement any type of jean you choose.

Consider the color:

Chelsea boots can be worn with jeans in any color, but some color combinations are more tried and tested. Both black and blue jeans are tried and tested styling choices that work well with iconic black or brown boots. For example, black Chelsea boots look great with dark-wash jeans, while brown Chelsea boots look great with light-wash jeans.

To cuff or not to cuff?

You can cuff your jeans or let them fall over your boots. Cuffed jeans give your outfit a more polished look, while letting your jeans fall over your boots gives your outfit a more casual look.

Socks...or not:

You can wear socks with Chelsea boots or go sock-less. If you wear socks, make sure that they complement the boots, do not clash with your jeans and are not too bulky.

Accessorizing with Chelsea Boots:

You can add accessories to your outfit to dress it up or down. For example, you can add a scarf or a statement necklace to dress up your outfit, or you can add a baseball cap or a bomber jacket to dress it down.
---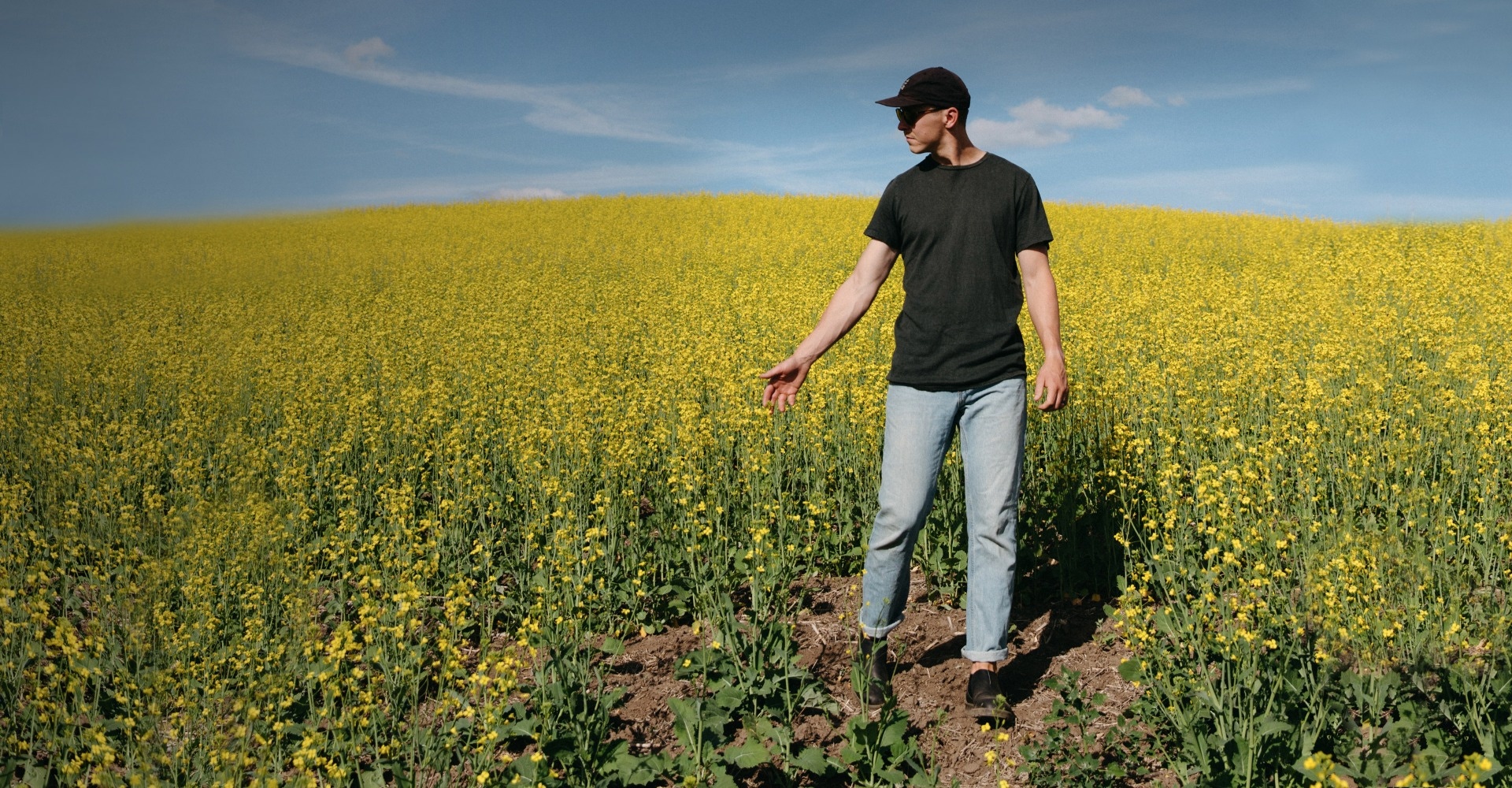 Outfit ideas: Boots and jeans for Women
Blundstone's Chelsea boots effortlessly complement various fashion styles. Here are some fashion tips:
When pairing our Women's boots with with denim, skinny jeans or boyfriend jeans are particularly great for a chic and casual look. You can opt to roll up the jeans slightly to showcase the boot or tuck them neatly into the top of the boot for a polished appearance.

For a comfortable "boho" look, flared or wide-leg jeans, and loose-fitting and flowy clothes, as well as skirts, blend seamlessly with the rugged element of Chelsea boots for a relaxed and free spirited aesthetic. Combining your Chelsea boots with ripped or distressed jeans creates a cool and rebellious vibe, which can be completed with a brown or black leather jacket or graphic tee for a more edgy feel.

Festival-goers can forgo traditional rain boots and opt for Chelsea boots paired with shorts. Not only will these boots keep your feet dry and warm, but they also add a touch of style that surpasses conventional rain boots.

Blundstone was featured in Marie Claire's article "The 15 Best Boots Brands for Women in 2023," where they highlighted the Blundstone #2100 Stout Brown Chelsea Boots and the Blundstone #2160 Pearl Premium Leather Heeled Boots. The article recognizes Blundstone as a brand that offers a variety of styles while maintaining comfort and quality, making them ideal for challenging weather conditions and extensive walking.
Outfit ideas: Boots and jeans for Men
Our men's Chelsea boots can be styled with jeans in various fashionable ways. Here are some popular options:
Pair slim or straight-leg jeans with our leather Chelsea boots for a timeless and casual look. Opt for a medium to dark wash for versatility. You can roll up the cuffs of the jeans slightly to showcase the boots.

For a rugged and outdoorsy style, choose a pair of distressed or faded jeans. The worn-in look of the jeans pairs well with the sturdy aesthetic of Blundstone Chelsea boots. Adding a flannel shirt or a denim jacket gives an extra touch of rugged appeal.

For a polished yet relaxed outfit, combine a pair of well-fitted dark-wash jeans with Blundstone Chelsea boots. Tuck the jeans into the boots for a sleek appearance. Button-down shirts and sweaters best suit this refined smart-casual ensemble. For even dressier events, wear ankle boots with dark-wash jeans and a blazer for a sophisticated outfit suitable for semi-formal occasions. Dress shirts, ties, and even pocket squares can also be added to complete the dressier look.

You can create a stylish and layered outfit by pairing jeans and your boots with different layers. Wear a T-shirt or a casual button-down shirt as a base, then layer with a sweater, a cardigan, or a jacket. This adds depth and visual interest to your overall look.

Remember to pay attention to the fit and length of your jeans. Opt for slim or tapered cuts that complement the sleek profile of Blundstone Chelsea boots. Ensure that the jeans are not too long or too loose, as they may distract from the overall polished look.

Men's Health highlighted the Blundstone #510 leather boots as the "Best All-Weather Chelsea Boot" in their article on finding the right Chelsea boot. These versatile boots can be paired with anything from a suit to jeans and a flannel shirt, combining style with practicality.